Billionaires Got Much Richer in Pandemic
In the COVID-19 downturn, this blog has had a steady supply of stories and statistics about the damage being done to low-income and middle-class families.
That's one perspective on the pandemic. The growing billionaire class is another one.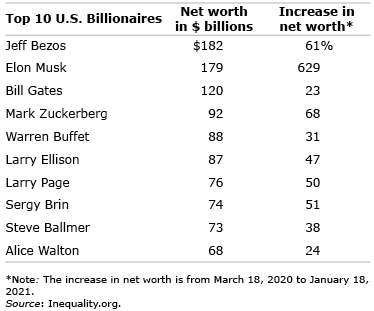 Since last March, the nation's 660 billionaires have added more than $1 trillion to their wealth – a 39 percent increase. Their combined net worth is now $4 trillion, which is nearly double the $2 trillion held by the 165 million Americans in the bottom half, according to the Institute for Policy Studies' new report.
"It's a troubling sign that too much of society's wealth and income is flowing upwards to that small group of people," Chuck Collins of the Institute for Policy Studies said during an interview on NPR's Fresh Air.
The institute's report is based on Forbes magazine's annual estimates of the net worth of the world's richest people.
Inequality has always been with us, but economists say it has grown as billionaires' wealth has hit stratospheric levels.
To be sure, inequality would've been worse without the Coronavirus Aid, Relief, and Economic Security (CARES) Act. The $500 billion in direct assistance to families last spring prevented a surge in poverty, and the relief bill passed in late December is sending more aid to unemployed and under-employed people who need it.
The billionaires are getting richer for a couple reasons, starting with a surprisingly strong stock market in 2020. Despite the worst public health crisis in a century and a struggling economy, the Standard & Poor's 500 stock index shot up 18 percent.
But some billionaires were also in the right place at the right time – a pandemic. Last year, Zoom founder Eric Yuan officially became a billionaire, though his $17 billion net worth pales next to Amazon founder Jeff Bezos'. Bezos' wealth swelled $69 billion last year to $182 billion as the pandemic made him richer each time someone ordered an item for doorstep delivery.
Amazon is a classic example of a company that Collins said is "benefiting from having their competition effectively shut down during the pandemic."
Read our blog posts in our ongoing coverage of COVID-19.
Squared Away writer Kim Blanton invites you to follow us on Twitter @SquaredAwayBC. To stay current on our blog, please join our free email list. You'll receive just one email each week – with links to the two new posts for that week – when you sign up here. This blog is supported by the Center for Retirement Research at Boston College.
Comments are closed.