Changing Social Security: Who's Affected
Due to the strength and agility required for physical labor, half of blue-collar workers sign up for Social Security as soon as they're eligible – at age 62.
But a large majority of white-collar workers wait so they can lock in a larger monthly check for retirement.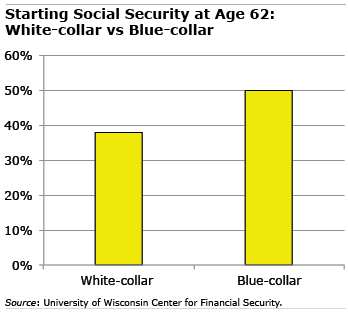 In a new study, Lindsay Jacobs at the University of Wisconsin found that blue- and white-collar workers would also respond very differently to potential increases in the program's two benchmark ages: the earliest eligibility age and the full retirement age.
Raising the earliest eligibility age to 64 would not change retirees' lifetime benefits. But a two-year hike in the full retirement age would amount to a significant benefit cut – and with the depletion of Social Security's trust fund projected for 2035, some version of this change might one day be considered.
The first change – raising Social Security's earliest claiming age – would require a much bigger adjustment by blue-collar workers. Jacobs predicted that this group would respond by working an extra year, on average, compared with a few more months for white-collar workers.
Requiring workers to wait longer for their benefits does have a financial advantage: a larger Social Security check every month. The problem for some blue-collar workers is that they couldn't make it to 64. One result, then, is that increasing the early retirement age would push up applications to Social Security's disability program, according to the study funded by the Retirement and Disability Research Consortium.
Jacobs gauged the impact of raising the early retirement age based on how quickly workers' declining health would affect their ability to work as they age. To understand how they would react to raising the full retirement age, she examined how workers' decisions about retiring, saving, and signing up for Social Security would change under various policies. She classified the workers as blue- or white-collar using data that describes job tasks to show that the physical demands at work influence these decisions.
The second possible change would increase the full retirement age by two years, which amounts to an across-the-board cut in benefits regardless of when workers claim them. In response, white-collar workers, who are already more inclined to hold out until the full retirement age, would be more likely to work even longer to reach the new, higher benchmark age.
But blue-collar workers would bear the brunt of the benefit cuts, because their physically demanding jobs would often prevent them from working longer to offset the cuts.
When weighing various changes to Social Security, it's important to remember that blue-collar workers have less leeway to adjust to a change in the rules.
To read this study, authored by Lindsay Jacobs, see "Occupations and Work at Older Ages: Varied Responses to Policy."
Comments are closed.