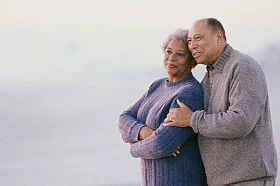 Do Couples Save Enough for Two?
Since only about half of all private sector workers currently have access to an employer 401(k) plan, it's not at all unusual for spouses who are both working to have only one saver in the family.
When that's the case, is the person who is contributing to the employer retirement plan saving for two?  The answer is definitely not, concludes a new study by the Center for Retirement Research.
The challenge for couples living on two paychecks is that they have to save more money to maintain their current lifestyle after they retire. But households with two earners and only one saver end up saving less than others – only about 5 percent of the couple's combined incomes, compared with more than 9 percent when both spouses are working and saving, the study found.
Couples who rely on a lone saver need that person to pick up the slack. Employers could help them if they considered the employee's family situation when setting a 401(k) contribution rate in plans that automatically enroll workers.
Squared Away writer Kim Blanton invites you to follow us on Twitter @SquaredAwayBC. To stay current on our blog, please join our free email list. You'll receive just one email each week – with links to the two new posts for that week – when you sign up here. This blog is supported by the Center for Retirement Research at Boston College.
Comments are closed.