Primer: Home Equity → Retiree Income
Americans who are 62 or older had an estimated $3.6 trillion in total equity locked up in their homes in the first quarter of 2014, according to the National Reverse Mortgage Lenders Association. A new primer suggests they should start thinking seriously about using it to generate some extra retirement income.
The primer, published by the Center for Retirement Research at Boston College, which sponsors this blog, discusses two ways retirees can use home equity to generate income: by downsizing into a less expensive house or condominium or by taking out a reverse mortgage.
Click here to read the booklet online and learn how these strategies work and how much money each can provide.  Their pros and cons are detailed in the graphic below, excerpted from the booklet: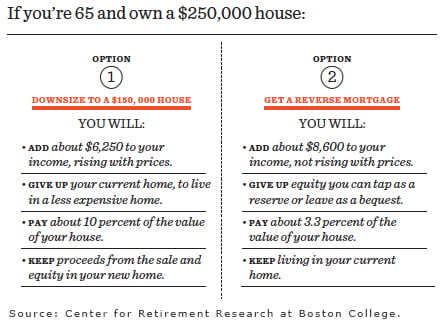 Home equity is rarely tapped as a source of retirement income, even though most U.S. retirees have more money sitting in their homes than they have in their 401(k)s or IRAs.  While many talk about downsizing, relatively few actually do it.
And only about 60,000 retirees took out a reverse mortgage in fiscal 2013, according to the U.S. Department of Housing and Urban Development. One reason may be that reverse mortgages are an unfamiliar and complex financial product, and their costs, benefits, and risks are poorly understood. To guide consumers about federally insured reverse mortgages, regulators require that homeowners meet with a government-approved housing counselor to apply for a loan.
Many retirees hold on to their home equity to pay future medical bills or pass something on to their children.  Maybe it's time to consider how to convert that equity into income.
Comments are closed.