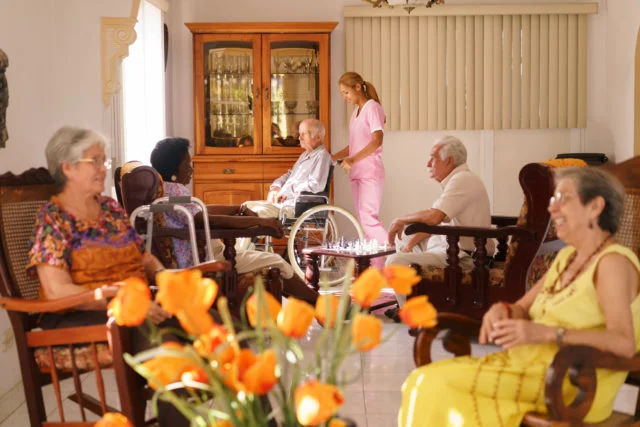 Seniors Find an Affordable Haven
The stress of living with her son and daughter-in-law made Mary Roby's blood sugar spike. But when she began her search for an independent senior housing community, affordable and nice never seemed to come in the same package.
Roby, who is 80, said she looked around quite a bit. A one-room place in the Boston area for $4,500 a month had no senior services, a limited kitchen, and was housed in a poorly maintained building. She also knew, through her son's in-laws, about a high-end assisted living community with extensive services, but it charged more than $6,000.
Then she found Shillman House, which was both affordable and nice. "I love it here," Roby said about the independent senior housing community in Framingham, Mass.
With millions of baby boomers retiring every year, providing senior housing that the middle-class can afford is shaping up as a major challenge. The wealthy can pay for 24/7 home care or assisted living facilities with steep entry fees, and low-income seniors can apply for federal housing assistance.
But, "There are a lot of people who earn a little too much to qualify for any of the subsidized housing," said Amy Schectman, president of the Jewish Community Housing for the Elderly (JCHE), which operates Shillman House. These people often find themselves in "no-man's land."
Opened in 2011, Shillman is the Boston-area non-profit's experiment in making independent senior housing more affordable to people in the middle – and JCHE is exploring a second such project.
What makes Shillman unusual is that middle-income and low-income seniors live side by side in the 150-unit building. The majority of residents either receive rent subsidies under the federal Section 8 program or qualify for affordable rents financed with tax credits for developers of low-income housing.
But Shillman also offers 60 market-rate apartments to retirees like Roby. These market-rate rents average about $3,100 per month for a one-bedroom apartment with a full kitchen and $3,350 for two bedrooms. Creative financing kept these rents at reasonable levels by reducing the amount JCHE had to borrow to build the $42 million facility. This was done by raising $5 million in donations to put toward construction, said Tabetha McCartney, director of development finance. The four-story facility's size also helped to control the market-rate rents through economies of scale, she said.
Shillman House isn't fancy, but it provides a range of services. On a tour of the campus, its director, Debbi Cutler, said that JCHE raises money through grants and donations to pay for fitness instructors and for staff to oversee the computer room and drive residents on outings in a van. Residents do their part to keep costs down, volunteering as receptionists or as cashiers in a little store on the premises. There are $25 fees for the fitness center and the media center, though they are often waived.
Mary Roby
Roby is a former Polaroid Corp. purchasing administrator who receives retirement income from her small pension, half of her late husband's pension, Social Security, and some savings from selling her home. The $3,350 rent for her two-bedroom apartment includes two meals a day, light housekeeping and laundry every other week, maintenance by in-house staff – and a welcoming community of spunky 70-, 80- and 90-year-olds.
She only moved in in April and is still getting to know people. "Even though I'm new, I've made friends in the short time I'm here," she said.
Bob Neidich
Bob Neidich, age 91, didn't move into Shillman House from Long Island strictly for financial reasons. His daughter lives nearby, so it's easy to have lunch together a couple times a week. But he preferred it to everything else he looked at. "There were no places that were even a little bit like this on Long Island," he said.
As retirees go, he is fairly comfortable financially after a career that was a forward motion machine of middle-class aspiration: from high school teacher on Long Island to superintendent of a suburban, blue-collar school district to various university postings, including assistant dean for the New York University
School of Education.
He has about $90,000 in retirement income from a couple pensions, Social Security, and the profits from selling his $250,000 house on Long Island, which he and his wife renovated and transformed from an unheated shack they had purchased decades ago for $30,000.
On Long Island, some of the senior housing communities he could afford were "seedy." But he could not afford the steep entrance fees for the continuing care facilities on Long Island. "I didn't have enough assets," he said. "They were talking about $600,000-700,000 upfront."
More than Shillman's affordability, however, Neidich said he likes its "culture of friendship."
"The DMV is run for the convenience of the staff. The converse is true here," he said. "The staff is very concerned with the residents."
To stay current on our Squared Away blog, we invite you to join our free email list. You'll receive just one email each week – with links to the two new posts for that week – when you sign up here.