Student Debt May Slow Home Buying
First-time buyers are currently responsible for about 29 percent of all U.S. house sales, down from historical levels of 40 percent, according to the National Association of Realtors.  The share of young adults who own a house has also declined sharply.
There's debate about whether buying a house is a good financial move.  But the waning of this coming-of-age ritual is a significant change in behavior for young adults in this country.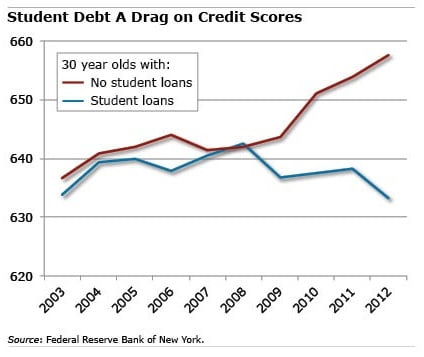 One culprit may be student debt, which is becoming more prevalent – 43 percent of young adults have some, compared with 25 percent a decade ago.  The average borrower's balance has also doubled in the past decade, to more than $20,000 in 2012.
Researchers at the Federal Reserve Bank of New York believe these unprecedented student debt levels may be dampening house purchases by first-time buyers.  Student loans cause individuals to do poorly under two of the primary tests by Freddie Mac and Fannie Mae that lenders use to approve standard home loans.
One test is the credit score.  The average score for 30-year-olds with student loans is 24 points lower than their debt-free friends' scores – that difference used to be three points, the Fed researchers said.  Eroding credit scores are a fairly recent development.
A second test for getting a mortgage is the borrower's debt payments relative to his income.  Under this test, individuals already making payments on their student loans every month are more likely to be disqualified for a mortgage.  Many more young adults, aware they couldn't make a house payment, probably don't even apply for a mortgage.
One benefit of homeownership is that millions of Americans have, by paying down a mortgage over many years, accumulated savings they can use later in life.
With fewer adults today able to buy a house, it could make this country's retirement outlook that much worse.
Comments are closed.