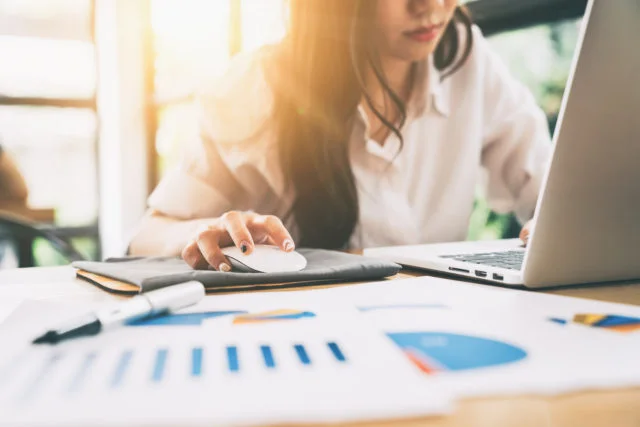 The Late-1950s Boomers: Hit by Divorce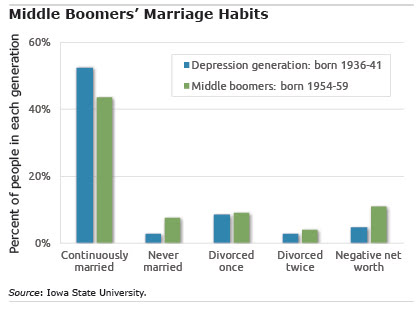 It's old news that the many baby boomers who did not get married and stay married are worse off financially than those who did. Unfortunately, the financial damage to one segment of this generation has broken new ground.
Only 44 percent of "middle boomers" – those born in the late 1950s – have remained married to their original spouses, down from 52 percent of their parents' generation. Middle boomers are also far more likely to have lived with partners without marrying, remained single all their lives, or even to have divorced twice.
The heart of a study is determining which of middle boomers' choices were most likely to have led to financial distress when they reached their pre-retirement years.
About 11 percent of middle boomers had negative net worth by the time they were in their early 50s – more than double the share for the generation born during the Great Depression when they reached this age. Negative net worth means that middle boomers' mortgages and other debts exceed the value of their assets; in this study, assets included everything from retirement plans and taxable bank accounts to primary and vacation homes.
To understand why, the researchers culled marital histories from a survey of older Americans. They found that four lifestyles are most strongly linked to middle boomers' negative net worth: never marrying, going through one divorce and becoming single again, separating from a second marriage, and divorcing from a second marriage.
In all of these situations, the individuals were about three times more likely to have negative net worth than were the continually married middle boomers. The study controlled for age, gender, race, education, health, household income, and the number of offspring.
Middle boomers are the "least prepared for retirement" out of four groups studied, the researchers concluded, and their choices around marriage have been important contributing factors.
Comments are closed.