White-Black Wealth Gap Nearly Triples
Over the past 25 years, the difference in wealth held by white and black households in the United States has nearly tripled, to $236,500.
In December, Squared Away wrote about the difficulty that black families have in trying to accumulate wealth so they can pass it on to their children.  New research out of Brandeis University's Institute on Assets and Social Policy now finds that the gap between the median net worth for white and black households has widened to a chasm, as blacks have fallen farther behind.
The study also quantified the reasons for the widening gap and found that the difficulty of building up housing equity is the largest factor.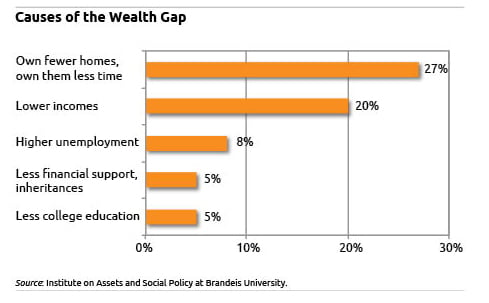 A house is usually the single largest asset owned by middle-class American families.  But starkly different homeownership patterns between blacks and whites – ownership rates are lower for blacks, who also own their homes for fewer years than whites – accounted for 27 percent of the increase in the wealth gap.
Housing's impact has been "incredibly large" and is the "key driver" of the growing black-white wealth gap, said Thomas Shapiro, the institute's director.  "It's part of the disadvantage that keeps working its way through the life course" from one generation of a black family to the next, he said.
It's more difficult for blacks to accumulate housing wealth for several reasons, all of which work to widen the wealth gap.  For example, since homes in the neighborhoods where they live tend to appreciate less, blacks have less home equity, Shapiro said.  "The ceiling on home equity gets lower and lower" in more diverse neighborhoods with lower house prices, he said.
The nitty-gritty of getting a mortgage also works against blacks.  Prospective white homebuyers have more access to gifts from family members to make larger down payments, which can lower the interest rates on their home loans, he said.  Black families are also more likely to lose a home in foreclosure, a factor that played out dramatically in the aftermath of the subprime mortgage boom.
The institute's dramatic findings were taken from a national survey – the Panel Study of Income Dynamics – that follows the same households over 25 years.  They are interviewed roughly every other year to create generational data.
Differences in educational attainment play a smaller role, explaining about 5 percent of the increase in the wealth gap.  A college degree translates to greater wealth and income after a graduate begins working – by one estimate, college graduates earn $1 million more than do high school graduates.  But while black and white families are both completing college at higher rates than they did 25 years ago, black graduation rates are not keeping up.
"It is clear that differential educational opportunities and rewards are further widening the racial wealth gap," the study concluded.
Share us on Facebook!
Comments are closed.