Why Less-educated Men Retire Younger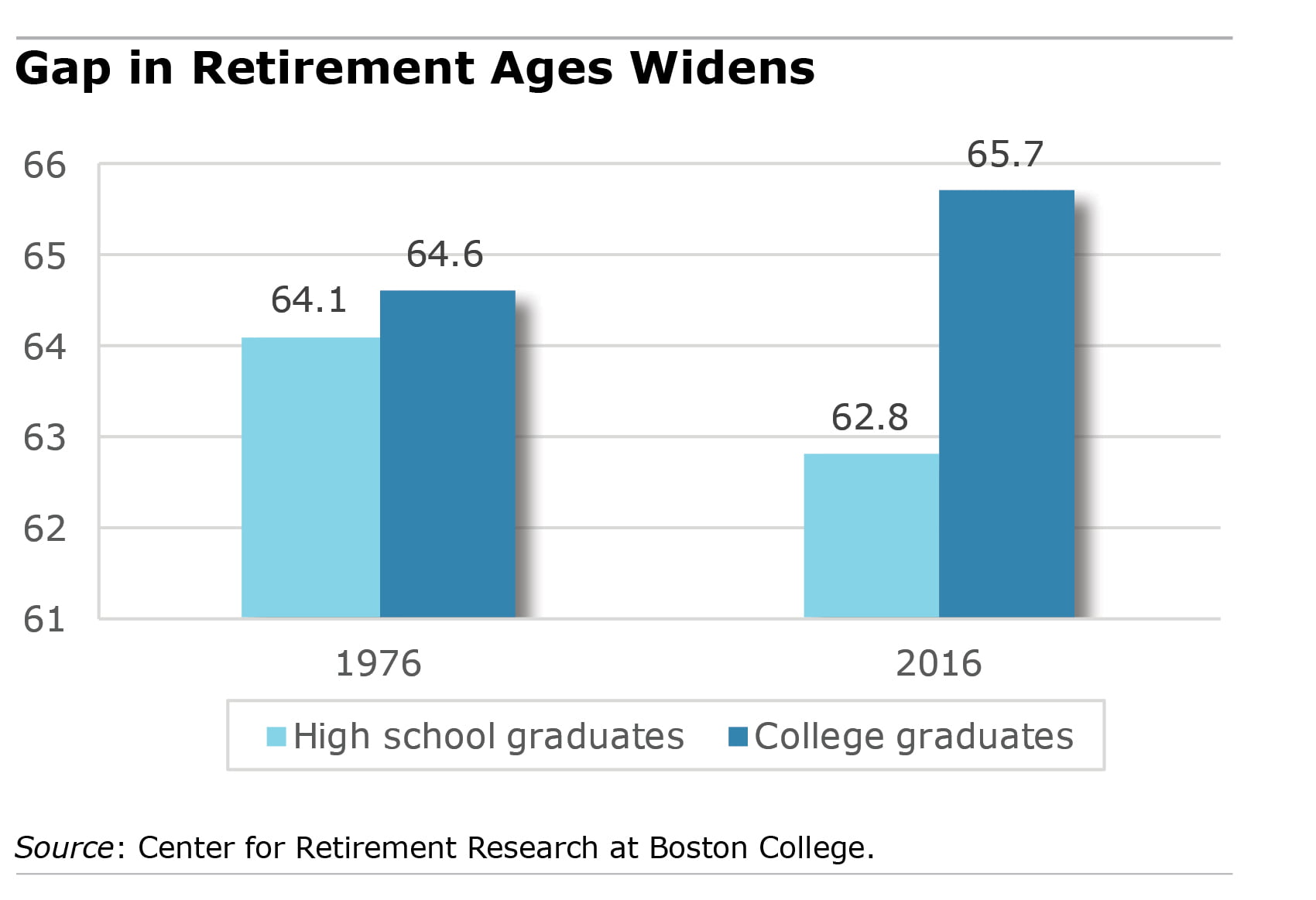 Men with high school diplomas are retiring around age 63 – three years before college-educated men.  The gap in their retirement ages used to be smaller.
The reasons behind the current disparity are explained in a review of research studies on the topic by Matt Rutledge, an economist with the Center for Retirement Research.  The trend for women is similar, though their story is complicated by a sharp rise in their participation in the labor force in recent decades.
Rutledge provides four reasons that less-educated men are still the lion's share of early retirees:
Health. Older Americans are generally getting healthier and living longer – so why not wait to retire? Well, the health of less-educated people is poorer and has improved less over time than their more-educated coworkers. And health problems trump unemployment and other types of job losses as the single biggest reason for their early retirements – more so than for better-educated workers.
Labor Market.  Two aspects of the labor market are relevant to less-educated workers.  In the past, a large share of the retiree population could count on a guaranteed monthly income from a pension. Today, the workers who have a retirement savings plan have an incentive to delay retirement, because they will have to rely on the often inadequate and uncertain income that can be withdrawn from their 401(k)s. But less-educated workers haven't been affected very much by the change, because they've never been big beneficiaries of employer retirement plans. In the 1990s, they could claim just 11 percent of the value in pensions, and today they hold 11 percent of the wealth in 401(k) plans.
A second change in the labor market is plummeting U.S. manufacturing employment since the 1980s, which reduced the physical demands of work.  But myriad working conditions remain relatively poor for less-educated workers and are still a powerful reason for them to retire.
Social Security reform has increased the retirement age at which the full benefit becomes available, pushing people to postpone their retirement. Yet this incentive is weaker for less-educated workers, despite their greater reliance on Social Security. Since they have generally shorter lifespans, a retirement delayed translates to fewer benefit checks – and smaller financial gains – over their years in retirement.
Working wives. Women's opportunities in the labor force have improved immensely over the years and many are either directly or implicitly encouraging older husbands to keep working so the pair can retire simultaneously. But, again, high school-educated men are at a disadvantage.  Their marriage rates have seen a sharper decline – from 88 percent to 64 percent in a decade – than the population's overall decline.  So fewer high-school-educated men are feeling the pressure from a working wife to postpone retirement.
Rutledge concludes that if the trends running counter to less-educated workers' interests don't reverse themselves, they "will continue to retire too early."
Comments are closed.