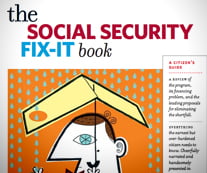 Everything the earnest but overburdened citizen needs to know about the Social Security financing shortfall and the leading proposals for addressing the problem. Cheerfully narrated and handsomely designed.
e-book for online viewing
PDF for printing
The Social Security Fix-It Book is available for $2.95 each (10-99 copies) or $2.35 each (100 or more copies), delivery included. To place an order, please contact Amy Grzybowski at amy.grzybowski@bc.edu or 617-552-1677.
© 2009, by Trustees of Boston College, Center for Retirement Research. All rights reserved.
Check out our Social Security Claiming Guide