Enrollment Trends in Medicare Options
Most retirees manage to get by on less than they earned as workers. Yet they devote a much larger percentage of their income to medical care than working people.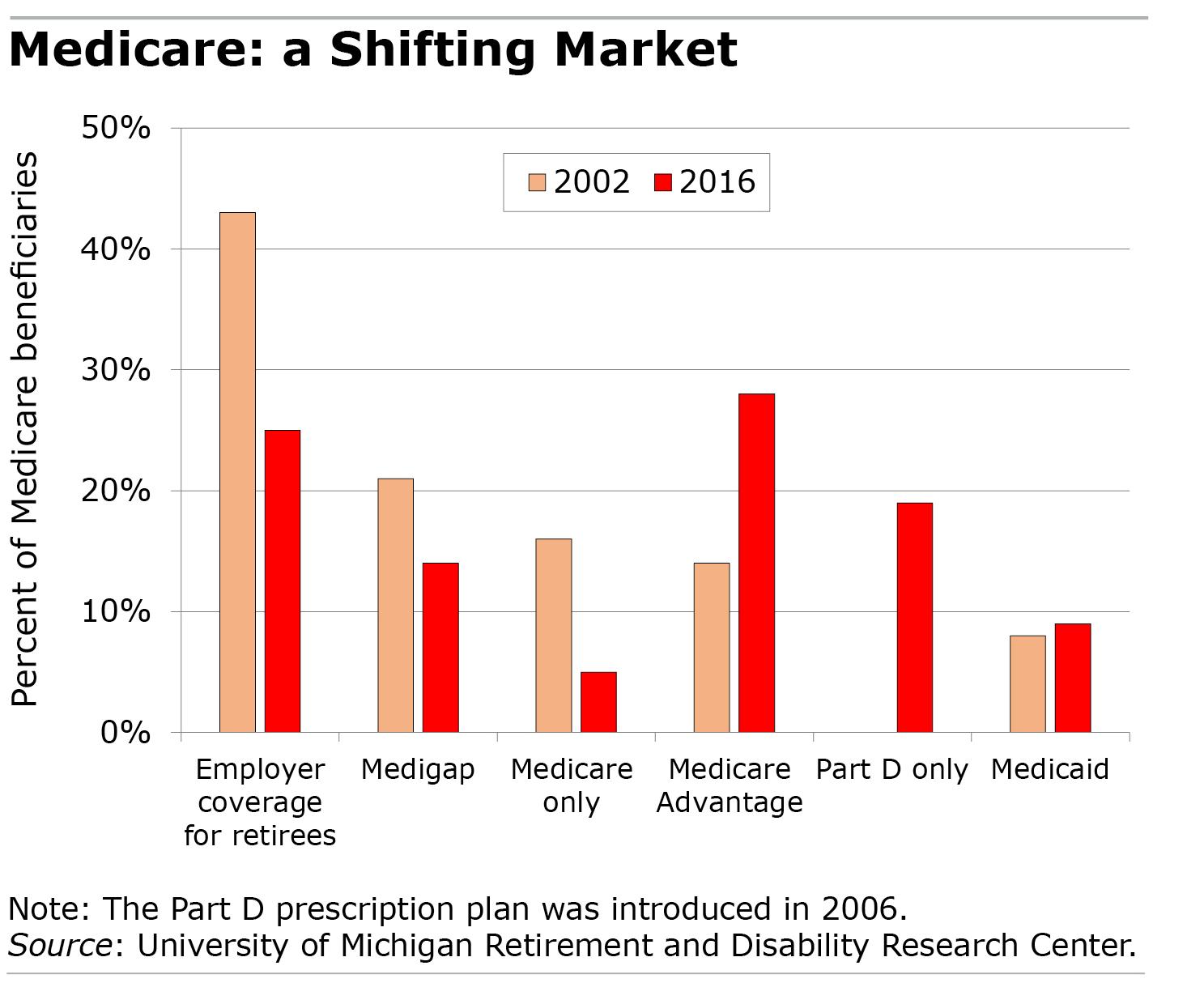 To limit their annual spending on care, retirees usually buy some type of insurance policy to help pay the bills Medicare does not cover. But a big shift is under way: the Medigap and employer plans that once dominated are now in decline. Only about a third of retirees have one of these two supplementary arrangements, down from two-thirds in 2002.
Retirees are instead swarming into Medicare Advantage plans  – HMOs run by insurance companies – which doubled enrollment in the past decade to become the most popular form of coverage. A small minority of retirees go without any policy at all, so the only premium they pay is for Medicare Part B's physician coverage. (The Part A hospital coverage has no premium.) At the same time, the vast majority of retirees today enjoy prescription drug coverage, either through a stand-alone Part D plan or as part of an employer or Advantage plan.
Helen Levy at the University of Michigan digs into what the market changes mean for retirees' bottom line in recent research funded by the U.S. Social Security Administration.
With fewer employers offering retiree health insurance, new Medicare beneficiaries focus on the tradeoffs between Medigap and Advantage policies. A big reason the Advantage plans have taken off is lower premiums, which are, on average, substantially below the premiums on Medigap plans. Advantage plans' other appeal is that they frequently cover extra services like dentists and eyeglasses.
Both Advantage and Medigap plans can still leave beneficiaries with high out-of-pocket spending. The federal limit on Advantage plans' deductibles and copays increased this year to $7,550 per year, though insurers are permitted to reduce this cap. Many Medigap plans do not have out-of-pocket maximums at all. However, these plans tend to give more protection from large medical bills overall.
Just as important to retirees as paying the bills is the risk of being socked with inordinately high spending on hospital and physician care in a bad year. Levy defines this unpredictability as retirees having to shell out more than 10 percent of income out of their pockets, excluding all premiums.
Under this standard, about 23 percent of the retirees in the study with Advantage plans spent more than 10 percent of their income for care – versus 17 percent of Medigap buyers.  About 28 percent of those without any coverage outside of Medicare exceeded the 10-percent threshold.
More certainty in the Medigap plans is only part of their appeal – at least, for the people who can afford the premiums. The other benefit to retirees is the ability to choose their own doctors, who are required to take Medigap if the practice accepts Medicare patients.
Retirees have to decide on the tradeoffs they're willing to make. "That is, after all, how insurance works," she said.
To read this study, authored by Helen Levy, see "The Risk of High Out-of-Pocket Health Spending Among Older Americans."
Comments are closed.
Ken Pidcock
Actually, you have to make an effort to even learn about Medigap policies. When you're turning 65, you are inundated with promotions for Advantage plans, but nothing about supplemental plans. Presumably, insurers and providers make out better with Advantage. And at government expense, no doubt.
Brian

Yes, the Medicare Advantage commercials are all over the place! We were fortunate — the company my wife and I retired from contracted with a company (ViaBenefits) that helps retirees evaluate and enroll in Medicare supplemental insurance. Still, a couple of years before we filed for Medicare we started attending local seminars and getting up-to-speed on Medicare, Medigap, Part D, and Medicare Advantage policies.
Brian
(Enjoyed the article.) There's a reason why "Most retirees manage to get by on less than they earned as workers." That's because many retirees earned way more than they needed to get by on. Now in retirement, their income matches what they need to get by on. So, it makes mathematical sense that they devote a much larger percentage of their income to medical care than working people, though not necessarily a larger dollar amount.(Both my wife and I have Medicare + Medigap + Part D plans. We like the certainty.)
Michael Goostree
This is good information, however it seems to me that it is not an accurate comparison. When I chose my plan I also factored in the cost of Medigap premiums vs Medicare Advantage. That presented a much more helpful financial picture. In my case, I felt as if the higher deductible was something I "might" pay, but the premiums were something I would "certianly" pay. That proved illuminating.
Jennifer
I agree with Brian. As a former nurse, I studied both options and took YouTube tutorials, and decided on Medicare+Medigap (Part N) and Part D plans. I want to know what I will have to pay. Advantage plans can offer other types of coverage such as dental and eye care and silver sneakers, however often they drop them, or participating doctors drop the coverage and do not participate with the plans. I worked with an oral surgeon for three years and never met a dentist who participated with a Medicare Advantage Plan.On my Medigap plan, any doctor in the country that participates in Medicare must also accept my Medigap plan for medical coverage.Advantage plans geographically may not have a hospital or doctor who participates if one travels out of their locale. This would be inconvenient on long trips and often a pre-certification may be required before treatment can commence. If not done properly then the patient is responsible for the whole bill–not fun when away from home.
Edward Hoffer MD
Advantage plans, with their "freebies" such as gym memberships and eyeglasses, tend to be a good option for healthy seniors but may not be a great option for those with serious illnesses that require specialized care.
michelle

I disagree with this. There is study after study that illustrates the advantage of being on a Medicare Advantage Plan from an member health perspective. In Medigap plans, you don't have someone managing your health for you, whereas with a MA plan, they are incentivized to produce positive health outcomes (star ratings system). So, if you tend to be an 'unhealthy' individual, you're better off in MA vs. Medigap.Not to mention the fact that in the end, MA plans prove to be more cost effective.
Paul Rubinfeld
I am HICAP (Health Insurance Counseling and Advocacy Program) Medicare counselor. HICAP is California's version of a nationwide program, SHIP (State Health Insurance Assistance Programs) https://www.shiptacenter.org/ Counselors are certified after receiving extensive training. We provide free, unbiased help delivered via 1:1 counseling sessions and seminars. Making an informed choice does not have to be a DIY project.
Laura Elliott
My husband has a Medigap N plan from United Healthcare. It gives him Silver Sneakers so his basic gym membership at YouFit is free. It's not only the Advantage plans that have Silver Sneakers we found out. I guess they figure it saves them money if he is going to the gym.
AK
Two questions: (1) Can someone switch between Advantage and Medigap plans, if changes in health status? (2) At below 65 years, if I take COBRA coverage, does that affect my eligibility for Medicare and Medigap (because I read that it is Not considered "continuous coverage" before Medicare?
FE

1) Technically switching between Advantage and Medigap is allowed. However you are only guaranteed Medigap issue rights when you are either first eligible for Medicare (ie. 65) or you're going off employer insurance. Otherwise you are subject to medical underwriting. So if you're switching from Advantage to Medigap because of a newly diagnosed serious ailment, chances are you won't be issued a policy. Advantage plans never require medical underwriting. 2) COBRA does not affect Medicare before age 65. There is no continuous coverage requirement with Medicare when you turn 65. You are eligible for Medigap as long as you have Part B.

AK

Thank you, FE!Thank you, Kim!

Kim (blog writer)

Dear AK - two excellent questions.First of all, I strongly suggest you call Medicare and ask your questions and get accurate, detailed answers: 800-633-4227Having said that, from my reporting, I understand that it's more difficult to switch from Advantage back to Medigap (than vice versa).And here's why, according to the federal government: when you sign up for Medicare, "you can buy any Medigap policy sold in your state, even if you have health problems. ... After this enrollment period, you may not be able to buy a Medigap policy. If you're able to buy one, it may cost more due to past or present health problems."Here's the link and good luck! https://www.medicare.gov/supplements-other-insurance/when-can-i-buy-medigap
Lee Brewer
You only mentioned Advantage HMO plans. I have a Medicare PPO Advantage Plan in NJ. I can visit any doctor in the USA – not just in NJ. I use an ocular specialist at Wills Eye Clinic in Philadelphia. I have been to Cleveland Clinic. My plan provides some limited coverage out of the country as well. The only limitation is that they only have the Hackensack Meridian Hospital system as their main place.This coverage including drug and dental teeth cleaning is also totally free from monthly charge. I pay a $20 copay for every specialist I visit. My primary care doctor visits are at no charge. I have had other Advantage Plans, but none nearly as good. I have been on an Advantage Plan for about 14 years after I dropped the $4000 annual Medigap plus $400 drug supplement. I figure I am almost $60,000 ahead and my Advantage Plan is way more flexible than the Medigap policies. Local doctors luv my plan provider.