Kids' College Trumps Parents' Retirement
Parents have spoken: paying for college is affecting their retirement planning.
Two new surveys indicate that the surge in college costs is impinging on Americans' retirement finances.  One survey, by the research firm Hearts & Wallets, found that boomer parents who support their adult children are more likely to delay retirement than parents of financially independent offspring.  The second survey, by the mutual fund manager T. Rowe Price, found that half of parents are willing to delay retirement or dip into their retirement savings to fund college.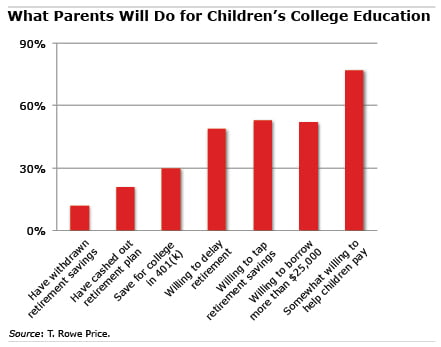 The surveys included young, idealistic parents as well as parents staring down the barrel of the retirement gun, and parents whose children achieved financial independence years ago. Nevertheless, these responses consistently show a willingness to trade retirement security to pay for their children's college education.
The findings aren't shocking, since parenthood is defined by sacrifice. But financial planners offer some tough advice about parental financial obligations, especially for clients zeroing in on retirement. Parents – as opposed to their offspring – have relatively few years left in the labor force to save for retirement.
"There's going to be a day when you can't work anymore," said Kelley Long, a financial planner with Financial Finesse, which provides independent financial education programs and a financial helpline for U.S. workplaces.
She senses in conversations with parents that they put college ahead of retirement partly out of a natural instinct to protect children from hardship and also out of guilt about not saving upfront specifically for college.
But Long puts this unpleasant thought in front of parents who haven't properly prepared for their retirement: "Do you want to move in with your kids when you run out of money?"
Comments are closed.
Mark Zoril
Interesting piece, a dilemma for many. In my experience as an adviser to the middle class, I work with many retirees that have made sacrifices for their future - their retirement in 60's and 70's - for their children, or grandchildren. For some people, helping with unplanned family obligations is a meaningful part of their budget! And in many cases, it is not necessarily for education, just helping your adult children get through life. Many times, the sacrifices are not overwhelming, small things here and there, but nevertheless they are sacrifices. In some cases, they are quite large. Many of my clients have really struggled with this. They want to help their children stand on their own, but they hate seeing them struggle. All prospective retirees should be honest with themselves about how they may handle the financial needs of their family and if it will impact their personal spending goals.
Chuck Miller
This highlights the need for more parents to investigate 529 college savings plans, and why employers should offer 529 plans.Paying college expenses tax free from a 529 makes much more sense than using personal savings or taxable with penalty 401(k) money.
Rob Hoisington
My question is, does it make more sense to continue putting money in our 529 for our soon-to-be college freshman daughter, or use the money I would have put in the 529 to pay for tuition and claim the American Opportunities Tax Credit?
Kelley Long

Rob, that's a very smart question! You're right - it makes sense to pay the first $4,000 of tuition with non-529 funds to fully utilize the American Opportunities Tax Credit. Some financial professionals might even advise taking out student loans to get to that first $4,000 to realize the dollar-for-dollar tax credit of $2,500, then paying the balance from her 529.
Susan
Why not look at the bigger picture, the ever increasing cost of college tuition?! What exactly are institutions offering that command $40,000, $50,000 or more a year? There are many for whom this is their annual gross salary. Why should the expectation be that parents must sacrifice their retirement savings or mortgage their homes - often their largest asset - to fund college tuition. With so many institution receiving generous endowments, why not take a step back and evaluate the rising cost of higher education? Soon, fewer will be able to afford it, but will sacrifice everything to try.
Paul Curley
I would be so happy when my parents live to an age where they could and would live with me, and I would happily live with my children. Family is family, and family lives together or dies together. "We are only born with wings and roots when more."
Paul Curley
Also, I agree with Chuck Miller that "paying college expenses tax free from a 529 makes much more sense than using personal savings or taxable with penalty 401(k) money." But I'd also add that "using personal savings or taxable (with penalty) 401(k) money" plus daily compounded interest and debt. This is nearly impossible to dispose of in bankruptcy.