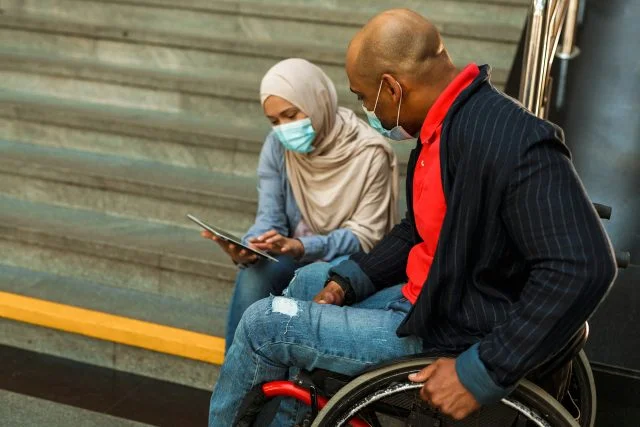 Experiences, Behaviors, and Attitudes about COVID-19 for People with Disabilities Over Time
Abstract
This paper examines high-frequency patterns that occur in the experiences with, behaviors during, and attitudes toward COVID-19 among people with disabilities since the pandemic began. It also examines the timing and predictors of plans to apply for Social Security benefits as a result of the pandemic. It uses biweekly and monthly data from the Understanding Coronavirus in America survey of the Understanding America Study and from the Household Pulse Survey. All analyses are descriptive.
The paper highlights the following findings:
People with and without disabilities held largely similar beliefs about safety related to COVID-19, such as the perceived safety of attending large gatherings and the effectiveness of wearing masks. However, people with disabilities engaged in behavior consistent with decreasing the risk of infection for longer periods during the pandemic relative to people without disabilities.
People with disabilities reported different levels of economic benefit receipt throughout the pandemic. They were more likely to report receiving economic stimulus funds and were less likely to report applying for or (if employed) receiving unemployment insurance early in the pandemic compared with people without disabilities.
People with disabilities reported higher levels of uncertainty, especially when assessing plans for receiving the COVID vaccine.
Respondents reported that COVID-19 impacted recent applications and plans to apply for Social Security Administration (SSA) programs including Old-Age and Survivors Insurance, Social Security Disability Insurance (SSDI), or Supplemental Security Income benefits. Controlling for other covariates, respondents who noted that COVID-19 impacted their plans were more likely to have applied for or planned to apply for these benefits. Those who recently applied to SSDI were more likely to report that COVID influenced their decision to apply earlier, rather than later, on average.
The policy implications of the findings are as follows:
During future public health emergencies, people with disabilities and others who engaged in protective behaviors longer through the pandemic might benefit from supports, such as dedicated grocery store hours or stimulus payments, for longer periods of time.
Rapid research and knowledge sharing focused on people with disabilities could encourage safe returns to pre-pandemic activities.
If respondents' self-reported plans come to fruition, SSA might observe an increase in applications to various programs after 2020 due in part to the pandemic and might anticipate more increases after future public health emergencies.