How High School Finance Courses Fail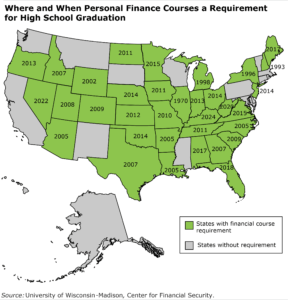 In more than 30 states, completing a personal finance course is required for a high school degree.
The requirement started gaining traction around the country in 2005, despite the long-running debate about whether the courses even work.
A new study gets at whether high school instruction is effective by asking a fresh question: do the finance classes make people feel better about their situation – and feeling better about one's finances is an indication things are, in fact, improving.
This departs from past studies focused on objective measures like credit scores and past-due loans.
The researchers find that high school courses have generally been a positive development: adults who grew up in states that require the courses do, in fact, feel better about their finances compared to people from states lacking a requirement.
But what's interesting in this study is that a group of disadvantaged Americans feel worse off for having taken the courses: high school graduates who didn't go on to college. Rather than helping them manage their financial challenges, the classes are only making things worse.
Before examining the reason for this, consider how the researchers measured the feeling of well-being. They used recent data from a series of questions asked by the FINRA Investor Education Foundation: Do you feel you have control over your money? Could you afford an unexpected expense? Do you have a sense of achieving your financial goals?
Most important, FINRA asked, do you have the financial "freedom to make choices that allow a person to enjoy life"? FINRA's survey was conducted in 2018, but this question is relevant in the COVID-19 recession. Enjoying life is essentially the flip side of having financial stress, which is currently very high among low-income workers without college degrees.
The researchers argue that adults with no more than a high school diploma who'd taken the personal finance classes feel worse, because the classes delivered a "harsh dose of reality" that can "make economically vulnerable people more aware of their precarious financial situation."
More than a third of U.S. families couldn't come up with $400 in an emergency, and improving financial literacy is one piece of tackling this complicated problem.
Based on their findings, the researchers said the best way to help the people who need it most is to design high school courses with practical strategies to meet their needs, given their scarce resources. The classes might focus, for example, on juggling bills and understanding taxes and the costs associated with parenting.
"The financial issues of non-college-going young adults warrant special attention," they concluded.
Squared Away writer Kim Blanton invites you to follow us on Twitter @SquaredAwayBC. To stay current on our blog, please join our free email list. You'll receive just one email each week – with links to the two new posts for that week – when you sign up here. This blog is supported by the Center for Retirement Research at Boston College.
Comments are closed.