Inflation Takes a Toll on Workers
The headline on a January blog asked, "How Long Can Wages Outrun Inflation?" Now we have our answer.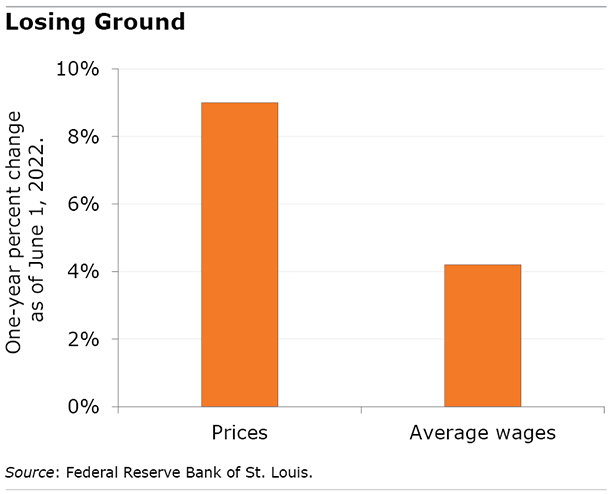 Inflation is increasing two times faster than private-sector wages, according to the Federal Reserve Bank of St. Louis's handy website. As of June 1, the Consumer Price Index had surged by 9.1 percent compared with the index at the same time last year. Average wages have risen 4.2 percent over the year.
To slow the economy and bring down inflation, the Federal Reserve is raising interest rates. The silver lining is that Americans are still fully employed – the 3.6 percent jobless rate is back to pre-COVID levels – and have used this leverage to secure the hefty wage hikes.
But workers' standard of living is eroding because their paychecks can't keep up with a one-year increase in apartment rents exceeding 10 percent and gas prices that have dropped recently but are still well above last year's prices. The grocery tab is shocking too. The Bureau of Labor Statistics reports that potato prices are up 16 percent, ground beef up as much as 12 percent, and flour is 40 percent more expensive due to the war in Ukraine, the world's breadbasket.
Inflation is changing the economy in fundamental ways, and it looks like Americans already exhausted by two-plus years of COVID are in for more tough times.
Squared Away writer Kim Blanton invites you to follow us on Twitter @SquaredAwayBC. To stay current on our blog, please join our free email list. You'll receive just one email each week – with links to the two new posts for that week – when you sign up here.  This blog is supported by the Center for Retirement Research at Boston College. 
Comments are closed.
Geoffrey Hewitt
Social security increase last year was 5.9% for 69 million SS recipients. Recent data shows inflation now running at 9.1 % so they lose a lot. So much for Yellen and Powell stating that inflation is transitory. Political much like everything now.
Infinite Broker
Inflation is always going to be more than salary. This is not only the condition of the US but also of the rest of the countries of the world, in which India is also included. That is why investing some part of the salary is needed to generate secondary income.