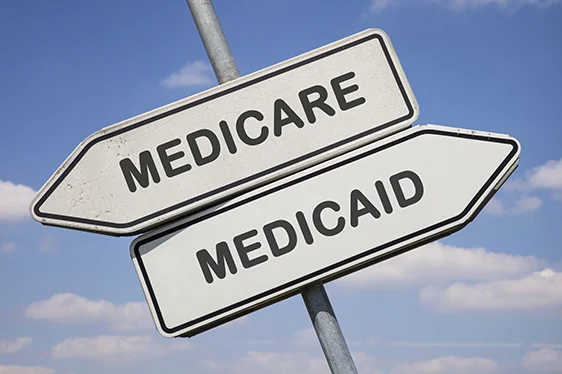 More People with Disabilities Have Medicaid
The Affordable Care Act has helped significant numbers of people with disabilities pay for the medical care their serious conditions require by adding Medicaid as a second layer of insurance to their standard Medicare coverage.
Dual eligibility for Medicare and Medicaid increased from 38 percent of people receiving disability benefits to between 42 percent and 44 percent in the 14 states that accepted the federal option to expand their Medicaid programs immediately after legislation started subsidizing these expansions in 2014, according to RAND researchers.
Medicare isn't just for retirees, and the researchers were curious about how broader Medicaid coverage has affected people under 65 who receive Social Security's disability insurance. They automatically go on Medicare two years after becoming eligible for the benefit. However, Medicare's premiums and cost-sharing are usually inordinately large expenses for such a low-income disability population. The premium alone is more than 10 percent of an average monthly disability check.
But more people became eligible for the Medicaid supplement in states that expanded their programs because the federal income limit for eligibility was raised to 138 percent of the poverty level, or about $20,120 a year for an individual. The cap on allowable assets was also removed. The researchers got roughly the same results in analyses of two different sets of national data comparing the changes in coverage in the Medicaid expansion states with states that have never expanded their programs.
"Nearly all of those newly covered by Medicaid went from paying at least some out-of-pocket expenditures to not paying them," they said.
Unfortunately, they added, the Medicaid expansion did not address the healthcare inequities that exist in the Black and Hispanic communities. The increase in dual eligibility was concentrated among non-Hispanic White disability beneficiaries.
"If anything, [the racial disparity] may be exacerbated if White beneficiaries are now disproportionately covered," they said. The researchers don't go into the reasons but a large segment of the Black population is concentrated in states that have not expanded Medicaid, including Alabama, Florida, Georgia, Louisiana, Mississippi, and Texas.
The Medicaid expansion accomplished its goal of insuring more people. The expansion states have "increased supplemental coverage and lowered out-of-pocket health care expenses, albeit not uniformly for this long-term disabled population," the study concluded.
To read this study by Philip Armour, Zetianyu Wang, and Claire O'Hanlon, see "Healthcare Cost-sharing and the Economic Security of Social Security Disability Insurance Beneficiaries: Medicaid Expansion and the SSDI-Medicare Population."
The research reported herein was derived in whole or in part from research activities performed pursuant to a grant from the U.S. Social Security Administration (SSA) funded as part of the Retirement and Disability Research Consortium. The opinions and conclusions expressed are solely those of the authors and do not represent the opinions or policy of SSA, any agency of the federal government, or Boston College. Neither the United States Government nor any agency thereof, nor any of their employees, make any warranty, express or implied, or assumes any legal liability or responsibility for the accuracy, completeness, or usefulness of the contents of this report. Reference herein to any specific commercial product, process or service by trade name, trademark, manufacturer, or otherwise does not necessarily constitute or imply endorsement, recommendation or favoring by the United States Government or any agency thereof.