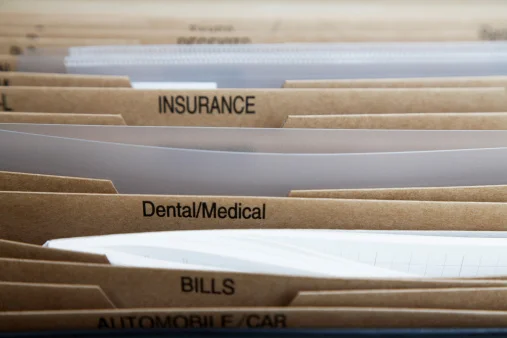 On-the-Job Healthcare Costs More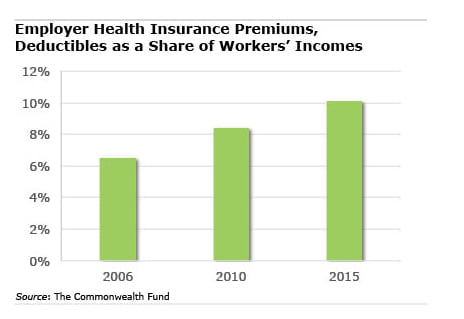 We've passed a milestone: workers typically spend more than 10 percent of their incomes for their employer health coverage.
A decade ago, they spent 6.5 percent on health costs.
One reason for the rising cost burden is the growing prevalence of high-deductible insurance plans, and, within these plans, the deductibles themselves are increasing. Although premium hikes in employer plans have slowed in the past five years, they are also still going up. The nation's aging work force could be another indirect pressure on costs.
Workers' incomes have also been going up, but growth remained sluggish over the past decade and "have not kept pace" with employer health costs, the Commonwealth Fund reported.
Healthcare news in recent weeks has focused on the 2017 premium hikes hitting people who buy coverage on the state exchanges created under the Affordable Care Act. But 154 million Americans – more than half of U.S. workers – obtain health insurance through their jobs, compared with about 10 million who go through the exchanges, points out the study by the Commonwealth Fund, a healthcare research organization.
When premiums and deductibles are combined, health costs are really starting to bite: the typical family shelled out about $6,422 in 2015 for premiums and copayments, compared with $3,531 in 2006 – that's increasing much faster than the pace of inflation – the report estimated. No wonder one recent survey found only a minority of Americans satisfied with the cost of their health insurance plans.
In the Commonwealth Fund's state-by-state analysis, the level of incomes in a state seem to play a role in the weight of workers' healthcare burdens. For example, premiums and deductibles, as a share of workers' incomes, currently exceed 12 percent in low-wage states like Arizona, Florida, New Mexico, Oklahoma, and Tennessee – Mississippi's, the highest, is close to 15 percent of incomes. Workers in relatively well-off states such as Maryland, Massachusetts, and Washington, however, pay 7.9 percent, 7.3 percent and 8.5 percent of their higher incomes, respectively.
To examine the study's state-by-state analysis, click here.
Squared Away writer Kim Blanton invites you to follow us on Twitter @SquaredAwayBC. To stay current on our  Squared Away blog, we invite you to join our free email list. You'll receive just one email each week – with links to the two new posts for that week – when you sign up here. 
Comments are closed.