Retirement System Urgently Needs Fixing
The state of our retirement preparedness is captured in this fact: about half of U.S. private sector workers at any given time are not enrolled in an employer retirement plan.
To be clear, they are not currently enrolled. Some of them have participated in a plan in the past or will in the future. But this inconsistency is the problem, largely because so many employers still don't offer 401(k) savings plans to their employees.
The financial toll of not saving consistently is modest retirement account balances. Yet saving has become increasingly urgent as traditional pensions have virtually disappeared from the private sector and Social Security is replacing less of workers' incomes over time.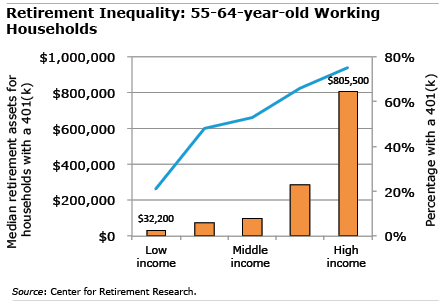 In 2019 – after several years of economic growth and a surging stock market – the typical working household, ages 55 to 64, that saves in a 401(k) had only $144,000 in its 401(k)s and IRAs combined, the Center for Retirement Research found in an analysis of the Federal Reserve's 2019 Survey of Consumer Finances.
That's just $9,000 more than they had in the 2016 survey, and $144,000 won't go very far.
A $144,000 account would yield $570 per month for retirement if a couple purchases an annuity that pays a guaranteed income for the rest of their lives. For most retirees, the annuity payments – totaling just under $7,000 per year – would be their only source of income outside of Social Security.
There are also enormous differences between high- and low-income households' savings, which reflect the nation's economic disparities and uneven employer coverage. The highest-income older households in the study had $805,500 in their combined 401(k) and IRA accounts, compared with just $32,200 for low-income households.
And only 21 percent of low-income households had 401(k) saving compared to 75 percent of those at the top.
More needs to be done about the dismal retirement prospects for the middle class and lower-paid earners, the researchers argue. They call for a national policy mandating that all workers be enrolled in a savings plan.
Our retirement system is not working for everyone – it's time that it does.
Squared Away writer Kim Blanton invites you to follow us on Twitter @SquaredAwayBC. To stay current on our blog, please join our free email list. You'll receive just one email each week – with links to the two new posts for that week – when you sign up here. This blog is supported by the Center for Retirement Research at Boston College.
Comments are closed.