Social Security Credits for Moms?
Dramatic changes in the U.S. family structure over several decades – more divorce, single motherhood, and unmarried couples – could have a big impact on the financial security of baby boomer women as they march into retirement – and on future retirees.
A review of studies on Social Security spousal and survivor benefits by the Center for Retirement Research, which sponsors this blog, examines the difficulty of providing retirement security for the growing ranks of women and mothers who do not fit the traditional family mold.
Social Security's benefits were designed for the typical family when the pension program was enacted in the 1930s, a family portrayed at the time by Henry Barbour and his wife, Fanny, in the popular radio soap opera, "One Man's Family." A spouse, usually the wife, is guaranteed half of her husband's full retirement age benefit under the program when she reaches her full retirement age – whether she works or not.  When her husband dies, her survivor benefit equals his pension benefit.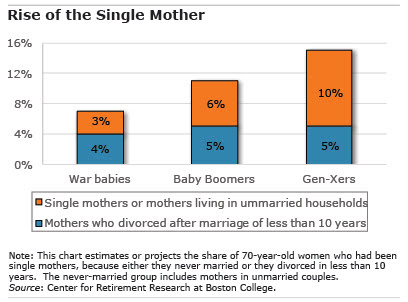 But women who marry and become divorced within 10 years are not eligible for these benefits.  Nor, of course, are single working women, who receive benefits based solely on their own work histories.  Increasing numbers of women reaching retirement age today either were in short-term marriages or never married and won't receive a spousal or survivor benefit. The problem is that most of these women are mothers.
Child-rearing responsibilities typically limit the hours that mothers can devote to working or pursuing careers and pay increases. Yet their earnings records – the 35 years of their highest earnings – are the basis for calculating their own worker benefits under Social Security.  These benefits aren't always enough to keep these women out of poverty in old age.
The Center's report suggests that it might be time to consider reforms that help single and divorced mothers.  One revenue-neutral proposal would eliminate spousal benefits and increase mothers' monthly Social Security checks through caregiving credits, which would increase the earnings base for calculating their benefits.
Comments are closed.