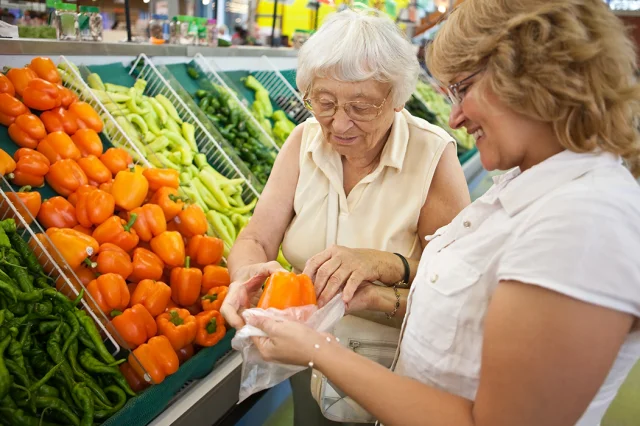 State Efforts to Increase Food Stamp Use are Working
Moves by state governments to improve access to food stamps have been very effective in increasing the number of retirees and people with disabilities who get the benefits, a new study finds.
The states, given a wide berth to administer the federal Supplemental Nutrition Assistance Program, or SNAP, as they see fit, have responded in recent decades by easing access to food stamps for their low-income residents through a variety of policies.
Many states have loosened the eligibility requirements by, for example, increasing the limits on the dollar amount of assets applicants are permitted to have or by automatically qualifying them when they receive other means-tested benefits. A second set of policies aim to reduce so-called transaction costs, which broadly refers to lowering administrative barriers to make it easier to apply.
University of Kansas researchers tested the impact on SNAP participation of these and other policies using 1996-2018 data from state food stamp databases and U.S. Census Bureau surveys of individuals. First, they grouped policies with similar goals together to test their effectiveness overall. Then they tested individual policies with a single goal. They also accounted for differences in state characteristics that can affect how many of their residents receive food stamps such as the unemployment and poverty rates.
In contrast to the food stamp program for healthy working-age adults, eligibility was already looser for people with disabilities and people over 60. The federal government does not require them to work to qualify, and the amount of assets these households are permitted to own is also higher – $4,250, compared with $2,750 for workers.
But half of the states have gone beyond this federal guideline by excluding the value of a vehicle when adding up applicants' assets to determine whether they qualify. The researchers found that people with disabilities have responded strongly to easing this specific requirement.
States that lower the barriers to applying to SNAP have significantly boosted enrollment among people over 60, who are often the intended targets of this particular set of policies. They include things like streamlining verification for the benefits or extending the time period before recipients have to renew them.
More than half of the states automatically qualify people for food stamps if they are receiving other means-tested programs such as Transitional Assistance for Needy Families or Medicaid. And many permit them to apply for two programs simultaneously. These policies are effective in increasing participation across the board but especially among seniors.
While the researchers focused on states expanding access to food stamps, a final category of policy changes have gone in the opposite direction. Described as stigmatizing, they are designed to discourage enrollment. One is taking fingerprints to prevent people from submitting fraudulent duplicate applications, which reduces food stamp participation in the general population. Another stigmatizing policy is issuing debit cards, which older people bristle at using in public at the grocery store.
Enrollment also declines in response to a policy that states had actually intended to ease access. Some states use a Standard Medical Deduction, which is subtracted from an applicant's income to see whether it falls under SNAP's income ceiling.
Some who take the Standard Medical Deduction might be disqualified because their income still doesn't drop below the income ceiling, the researchers said. They might've been approved for benefits by itemizing their medical expenses – if their expenses exceeded the standard deduction and would have pushed them below SNAP's income limit.
This is no doubt an unintended consequence of a policy designed to increase access.
But, overall, the researchers find, many of the policies the states have enacted to boost enrollment are working. "Older adults and people with disabilities are more likely to receive SNAP benefits when states enact policies that facilitate access," they concluded.
To read this study by Michael Easterday and Donna Ginther, see "Do State Nutritional Assistance Program Policies Affect Older Adults and People with Disabilities?"
The research reported herein was derived in whole or in part from research activities performed pursuant to a grant from the U.S. Social Security Administration (SSA) funded as part of the Retirement and Disability Research Consortium. The opinions and conclusions expressed are solely those of the authors and do not represent the opinions or policy of SSA, any agency of the federal government, or Boston College. Neither the United States Government nor any agency thereof, nor any of their employees, make any warranty, express or implied, or assumes any legal liability or responsibility for the accuracy, completeness, or usefulness of the contents of this report. Reference herein to any specific commercial product, process or service by trade name, trademark, manufacturer, or otherwise does not necessarily constitute or imply endorsement, recommendation or favoring by the United States Government or any agency thereof.