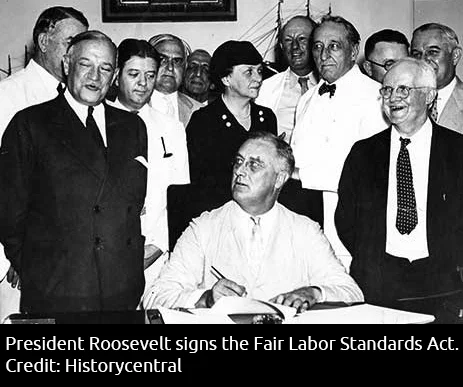 Subminimum Wage for Disabled: Unpopular Yet Useful?
In 1938, President Franklin D. Roosevelt signed the Fair Labor Standards Act establishing the federal minimum wage. Yet Section 14(c) of the act allowed employers to pay people with disabilities less than the minimum wage.
Under 14(c), these workers, who often have cognitive or intellectual disabilities, are earning as little as $4 or $5 per hour mainly through non-profit programs created to support them. This seems unfair from the perspective of the 23-year anniversary of the Americans with Disabilities Act giving people with disabilities the same rights as all other Americans. Advocates for the disabled like the Autistic Self Advocacy Network argue 14(c) should be repealed.
This seems like the obvious solution until you consider what Laura Kovacovich's mother has to say in a new PBS NewsHour segment. Her view is unpopular but worth listening to.
Laura, who has autism and obsessive compulsive disorder, absolutely loves her job stocking shelves at a thrift store in rural Park Rapids in central Minnesota. She earns about $5 an hour and would be "sad" if she couldn't work there. Laura also has a second job operating a loom at a textile company for Minnesota's minimum wage of $10.59 an hour.
Laura's mother, Dawn Kovacovich, said 14(c) is the only reason her daughter has that thrift store job. "You can't just stick someone in a rural community" and expect local employers to accommodate workers with disabilities and pay them full wages, she said. "You're not going to find that."
In fact, the Department of Labor's list of employers certified to pay 14(c) wages is dominated by rehabilitation programs run by nonprofits and an occasional hospital or small employer with limited resources that presumably uses it to fill in its workforce more cheaply. Large employers like Amazon and Target are absent from the list.
But the Center for American Progress, a liberal policy-oriented organization, argues that Dawn Kovacovich's argument is wrong-headed: Section 14(c) "is one of the most glaring examples of how the autonomy myth has been used to justify economic inequity."
It's difficult to imagine a policy that accomplishes two critical goals: solving the problem of high unemployment in the disability community and ensuring equal pay.
Watch this video to see which side of the debate you're on.
Squared Away writer Kim Blanton invites you to follow us on Twitter @SquaredAwayBC. To stay current on our blog, please join our free email list. You'll receive just one email each week – with links to the two new posts for that week – when you sign up here. This blog is supported by the Center for Retirement Research at Boston College.