When Your Health, Job Demands Clash
Home health aides, nurses, teacher assistants and servers do a lot of lifting or standing for long periods, which takes a toll on their bodies.
For a middle-aged waitress, it might be a bad knee. For a baby boomer caring for an elderly person, it might be the strain of lifting a patient out of a chair.
In a new study, researchers calculated the percentage of workers who cite health-related obstacles to performing their jobs for nearly 200 occupations. A ranking of these percentages proved a fairly reliable indicator of what one would expect workers to do. Workers in the occupations with the largest share of people having difficulty performing their jobs were more likely to quit work and file for Social Security Disability Insurance (SSDI).
The chart below shows the occupations with the highest percentages of health-related obstacles. For example, some of the most hazardous jobs are welders and brazers, who assemble equipment made of aluminum.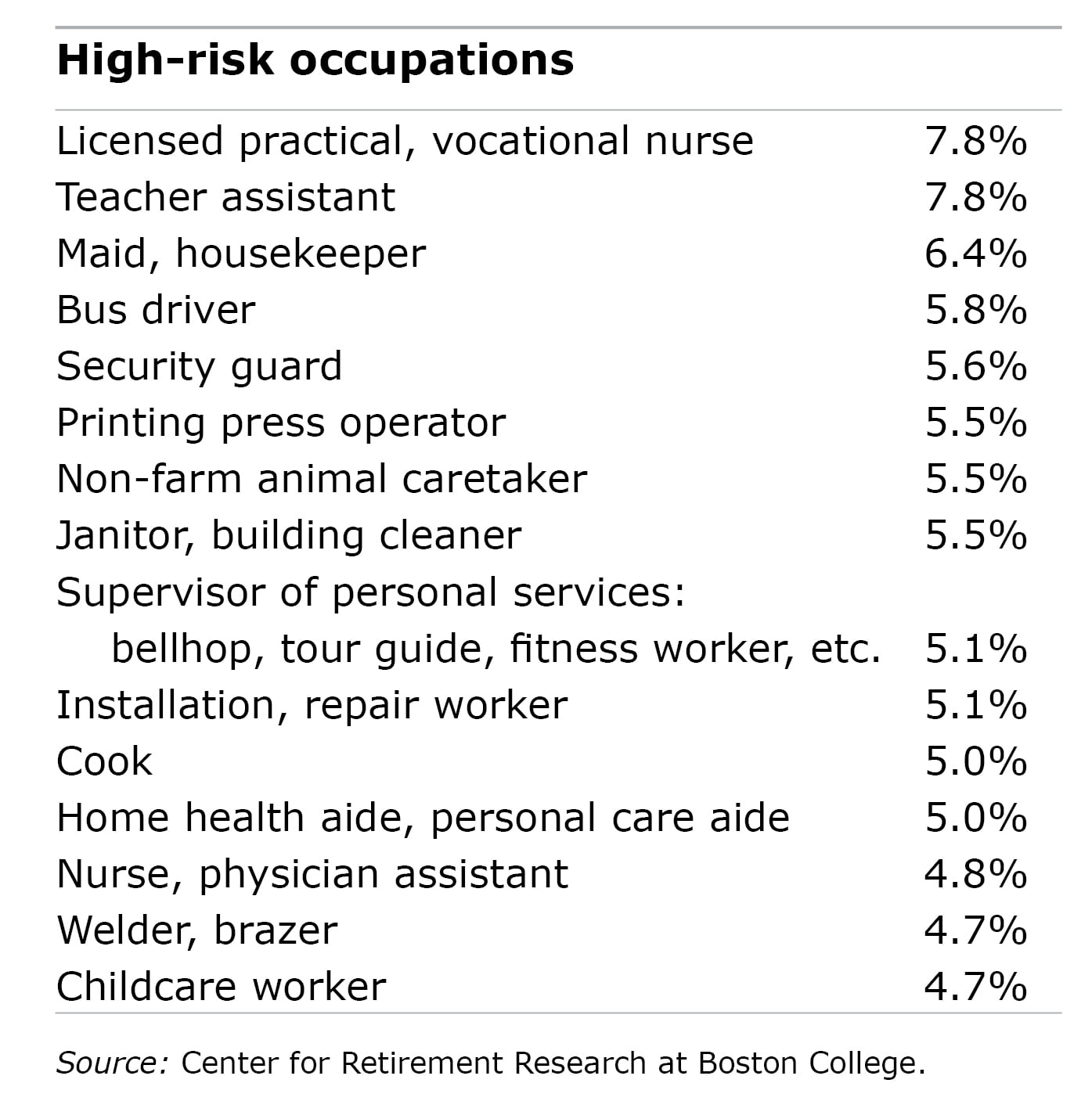 Not surprisingly, the incidence of health-related job obstacles rises with age. About 10 percent of people over 50 have difficulty completing their tasks, compared with only 6 percent of all U.S. workers. Aside from age, the decision to quit also depends on how many health-related obstacles are getting in the way.
Someone who can't quite manage just one job requirement is much less likely to quit than someone who struggles to perform two or three tasks. One reason is that employers may not be able to accommodate employees with multiple physical limitations, the researchers said.
Workers who apply for SSDI, they conclude, tend to not only be in poor health but also have health issues that conflict with their work requirements.
To read the entire study, authored by Matthew Rutledge, Alice Zulkarnain and Sara Ellen King, see "The Relationship between Occupational Requirements and SSDI Activity."
Comments are closed.