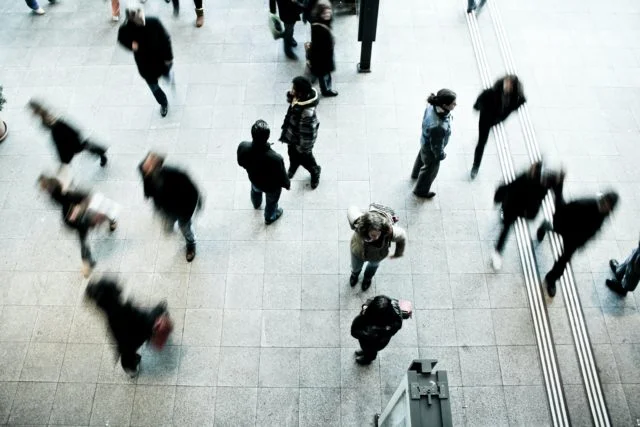 Fewer Older Americans Work Part-time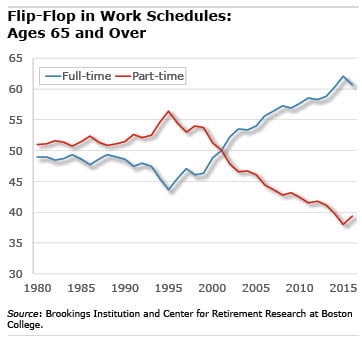 It's now a given that more people in their 60s and 70s are choosing to keep working.
But a related trend rumbling beneath the surface isn't so well-known: the share of working older people with full-time jobs has increased sharply – to almost 61 percent in 2016 from 40 percent in 1995 – as part-time work has become less popular.
The majority of older Americans are retired. But among those who do work, the move from part-time to full-time is "a major shift" in work schedules, concluded the Brookings Institution's Barry Bosworth and Gary Burtless and George Washington University's Ken Zhang in a report last year.  This is one aspect of the broader trend of rising labor force participation for the nation's older workers.
Burtless said in an email that the likely reason for the shift toward full-time employment is that more of the growing number of people who are working in their 60s and 70s are simply staying put in full-time career jobs.
Not surprisingly, much more income for the entire U.S. population over 65 comes from work. In 1990, employment earnings made up just 18 percent of their income from all sources. By 2012, that had almost doubled to 33 percent, according to the Brookings report.
Fueling the increase in full-time work are changes to the U.S. retirement system, as well as an increasingly healthy older population:
Baby boomers can't claim their full Social Security benefits until age 66, which is a year later than their parents. This reform also postponed the financial payoff from each additional year that Social Security benefits are delayed: a larger monthly benefit check.
Traditional pensions, which give workers an incentive to retire as soon as sufficient credits are accumulated, are much less common today. In their place are 401(k)s, and many older people continue to work so they can keep saving for retirement.
As older Americans have gotten healthier, the calculation of when to retire has changed in two ways. First, it's easier for older people to continue working when they are healthy. Second, longer life expectancies put financial pressure on older workers – staying employed relieves some of the pressure, Burtless said.
Click here to read the full Brookings report, "Later Retirement, Inequality in Old Age, and the Growing Gap in Longevity Between Rich and Poor."
Squared Away writer Kim Blanton invites you to follow us on Twitter @SquaredAwayBC. To stay current on our blog, please join our free email list. You'll receive just one email each week – with links to the two new posts for that week – when you sign up here. 
Comments are closed.