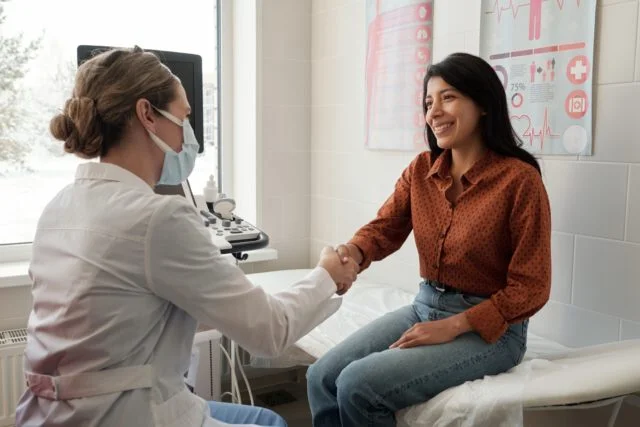 Health Insurance Increases Latinx Wealth
About one out of every five Latinx workers in this country lacks health insurance. The uninsured ratio rises to one in four in the states that have chosen not to expand their Medicaid programs to more low-income workers under the Affordable Care Act.
The motivation for Josefina Flores Morales' new research is that there's more to health insurance than just medical care. It is also critical to individuals' financial health, she argues, and broader insurance coverage in the Latinx community is an underappreciated way that the vast wealth gap between them and non-Latinx White workers could be reduced.
Having insurance keeps people healthy so they can continue to work and is important for other financial reasons. Insurance reduces the size of medical bills through caps on out-of-pocket costs and limits on how much doctors and hospitals can charge for their services.
In cases of severe illness, insurance can prevent a cascade of financial problems resulting in bankruptcy, a car repossession, or home foreclosure.
Flores Morales, a postdoctoral scholar at Stanford University's School of Medicine, attempts to put a dollar value on the health insurance disparity by measuring the gap between Latinx and non-Latinx White household wealth – and then estimating whether broadening coverage under the 2014 Medicaid expansion reduced that gap. Her analysis takes advantage of the key difference – each group's uninsured rates in each state – after Congress expanded the joint federal-state Medicaid program as part of the Affordable Care Act.
In the states that agreed to expand their programs, the Affordable Care Act began covering millions more low-income workers by increasing the income limit for people who qualify.
Based on the known impact that broader insurance coverage and the Medicaid expansion have had so far on the wealth gap between Latinx and White households, the researcher found that if both groups had the same, lower uninsured rate, the gap would shrink by about 8 percent. Flores Morales limited her analysis to the households that have positive net worth, meaning their assets exceeded their debts.
This increase may seem small, compared with, say, the equity that people hold in their homes. For the typical American, home equity is the largest part of their net worth.
Still, Flores Morales concluded, "health insurance shapes the financial security of households known to be in socially vulnerable positions."
To read this study, authored by Josefina Flores Morales, see "The Role of Health Insurance in the Latinx Whiter Wealth Gap in the United States."
The research reported herein was derived in whole or in part from research activities performed pursuant to a grant from the U.S. Social Security Administration (SSA) funded as part of the Retirement and Disability Research Consortium. The opinions and conclusions expressed are solely those of the authors and do not represent the opinions or policy of SSA, any agency of the federal government, or Boston College. Neither the United States Government nor any agency thereof, nor any of their employees, make any warranty, express or implied, or assumes any legal liability or responsibility for the accuracy, completeness, or usefulness of the contents of this report. Reference herein to any specific commercial product, process or service by trade name, trademark, manufacturer, or otherwise does not necessarily constitute or imply endorsement, recommendation or favoring by the United States Government or any agency thereof.