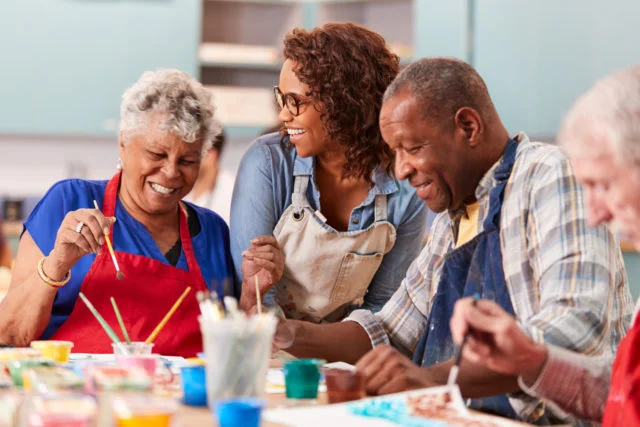 Racial Disparities Exist in Long-term Care
The types of long-term care located in various communities are largely driven by what their oldest residents can afford. This has created stark differences in what's available to White and minority retirees, a new study finds.
Assisted living facilities, despite the high cost, have been the fastest-growing part of the long-term care industry over the past 20 years. In the cities and suburbs, where the vast majority of Americans live, more of these facilities are located in predominantly White communities. Adult day care centers, at less than half the price of assisted living, have also expanded but are concentrated in communities of color.
The research also revealed that bank redlining has contributed to the racial disparities. Historic discrimination in mortgage lending has made it difficult for Black and Hispanic workers to accumulate the home equity they can use later to finance more comprehensive forms of long-term care. Government programs also play a role in what's available: some states get waivers to use federal funds from the Supplemental Security Income program to subsidize adult day care for low-income retirees.
The essence of this study is the contrast in long-term care facilities in White versus minority communities at a time the industry is increasingly privatized – and expensive. The options that are available in each community reflect to a large extent their residents' socioeconomic status.
The best example is assisted living facilities in which older people rent an apartment and receive assistance with their activities of daily living – dining service and help with a wheelchair or personal care like housekeeping, showering, and dressing – that don't require a nurse's care.
The number of assisted living facilities without nursing has more than doubled since 2000, to 26,800 nationwide, the researchers found. Older people who can afford to live in these residences, which are concentrated in White communities in more populated areas, enjoy a comfortable living standard that includes a smorgasbord of scheduled activities, without having to rely on their adult children to take care of them.
The racial disparity in long-term care is starkest when comparing these permanent residences with a much more affordable option concentrated in city neighborhoods of color: adult day care centers. The centers are often a better choice economically for minority retirees, who tend to have lower incomes and more debt than Whites. Day care costs around $20,300 per year, compared with about $54,000 for assisted living.
Day care keeps older Americans engaged in society, but they return to their own homes or to their younger, working family members at the end of the day. The centers are a place to socialize, get meals, social and health services, and participate in organized activities.
The remaining two options are nursing homes and assisted living that does include nursing care. Between 2000 and 2010, Medicaid-funded nursing homes, or skilled-nursing facilities, actually grew, with that growth largely occurring in communities of color. But the industry has shrunk since 2010, with more closings in non-White areas as nursing homes lose their appeal with retirees. Assisted living with nursing care, which provides residents with less comprehensive health services than nursing homes, has grown very slowly since 2010.
The researchers conclude that "the geographic distribution of [long-term care] facilities plays a role in producing racial disparities" in their use.
To read this study, authored by Mary Hamman, Stephanie Robert, Gargi Chaudhuri, Meghan Jenkins Morales, and Milanika Turner, see "The Geography of Long-term Care: Implications for SSI and Understanding Disparities in Living Arrangements among Older Adults."
The research reported herein was derived in whole or in part from research activities performed pursuant to a grant from the U.S. Social Security Administration (SSA) funded as part of the Retirement and Disability Research Consortium. The opinions and conclusions expressed are solely those of the authors and do not represent the opinions or policy of SSA, any agency of the federal government, or Boston College. Neither the United States Government nor any agency thereof, nor any of their employees, make any warranty, express or implied, or assumes any legal liability or responsibility for the accuracy, completeness, or usefulness of the contents of this report. Reference herein to any specific commercial product, process or service by trade name, trademark, manufacturer, or otherwise does not necessarily constitute or imply endorsement, recommendation or favoring by the United States Government or any agency thereof.
Comments are closed.