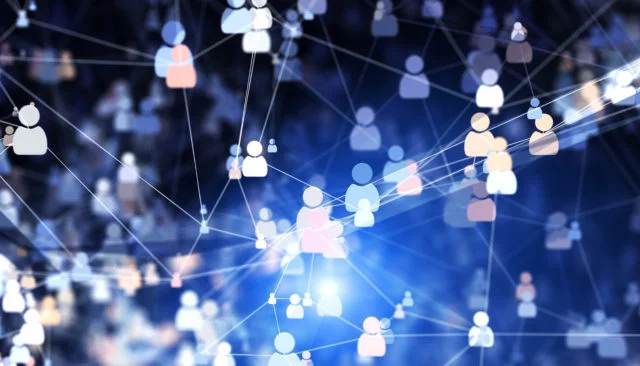 What's Up with Medicare Advantage Ads?
Starting months before my 65th birthday, my mailbox has been swamped with advertisements for Medicare Advantage insurance plans. The ads are still coming in.
And then there are the television commercials with promises of Advantage plan benefits that original Medicare doesn't cover – vision, dental, hearing services, rides to doctors' appointments, zero premiums. Sounds amazing, doesn't it?
The advertising blitz surely has contributed to the doubling in Advantage plan enrollment since 2013, to 28 million last year. The plans are overtaking Medigap plans, which the nonprofit Commonwealth Fund estimates do not bring in as much profit for brokers as Advantage plans.
It is true that the vast majority of Advantage plans provide some type of vision, dental and hearing coverage. And retirees with these benefits in their Advantage plans spend slightly less for the services than other retirees, the Kaiser Family Foundation, a healthcare non-profit, found.
But the devil is in the details.
For example, the average dollar limit for vision benefits in Advantage plans was $160 in 2021, said Meredith Freed, a senior policy analyst at Kaiser. That $160 probably wouldn't be enough to pay for an exam and buy the prescription glasses. The television and mailed advertisements are short on these details.
Or consider dental coverage for preventive services, such as cleanings and X-rays. This coverage might be useful, but the plan might not cover cavities, root canals and caps. Or, if they are covered, a $1,000 limit is fairly common and insufficient for many expensive procedures, Freed said. And what about the two out of three Advantage plans that do not charge a premium? The ads touting "zero premiums" aren't usually clear that you're still responsible for Medicare's Part B premium of $164.90 per month.
"I'm hesitant to use the word misleading," Freed said. But when choosing a Medicare Advantage plan, "Unfortunately, it's on the consumer to dig more when they're interested in a plan" to understand not only how the specific plans work but also how Medicare's underlying benefits work, she said.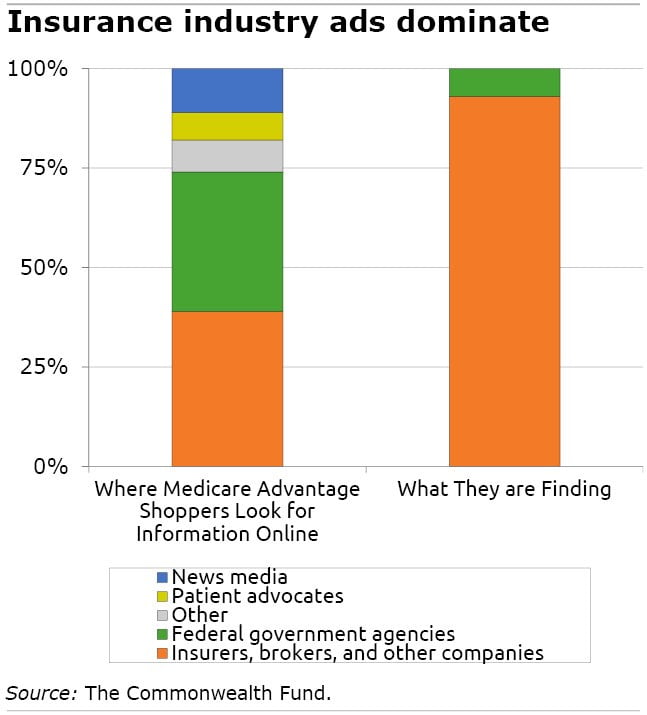 An analysis of Google search data has found that older Americans are not finding the kind of information online that they are seeking about their Medicare options. Instead, they are being bombarded with advertising by insurance companies, agents, and brokers, according to the Commonwealth Fund.
Older people search for Medicare information online from a diverse range of sources – patient advocacy groups, the media, and federal agencies including Social Security and the Centers for Medicare and Medicaid Services (CMS). A minority of the searches are for insurance industry information.
But online advertisements by agents, brokers, and insurers are prevalent in the top links in their Google searches and account for 87 percent of all online Medicare ads.
CMS, which provides useful information about the basic benefits or open enrollment dates or urges beneficiaries to shop around, is the primary source of the remaining 13 percent of the ads.
Meanwhile, retirees have more than 40 Advantage plans to choose from – more than double the choices five years ago.
If online searches aren't turning up the information you need, try calling your State Health Insurance Assistance Program (or SHIP). Every state has one. Our blogs – two published in November and one during 2021 open enrollment – provide more detail about the process and the options available to retirees.
Squared Away writer Kim Blanton invites you to follow us on Twitter @SquaredAwayBC. To stay current on our blog, please join our free email list. You'll receive just one email each week – with links to the two new posts for that week – when you sign up here. This blog is supported by the Center for Retirement Research at Boston College.
Comments are closed.