White-Collar Jobs Age-Sensitive Too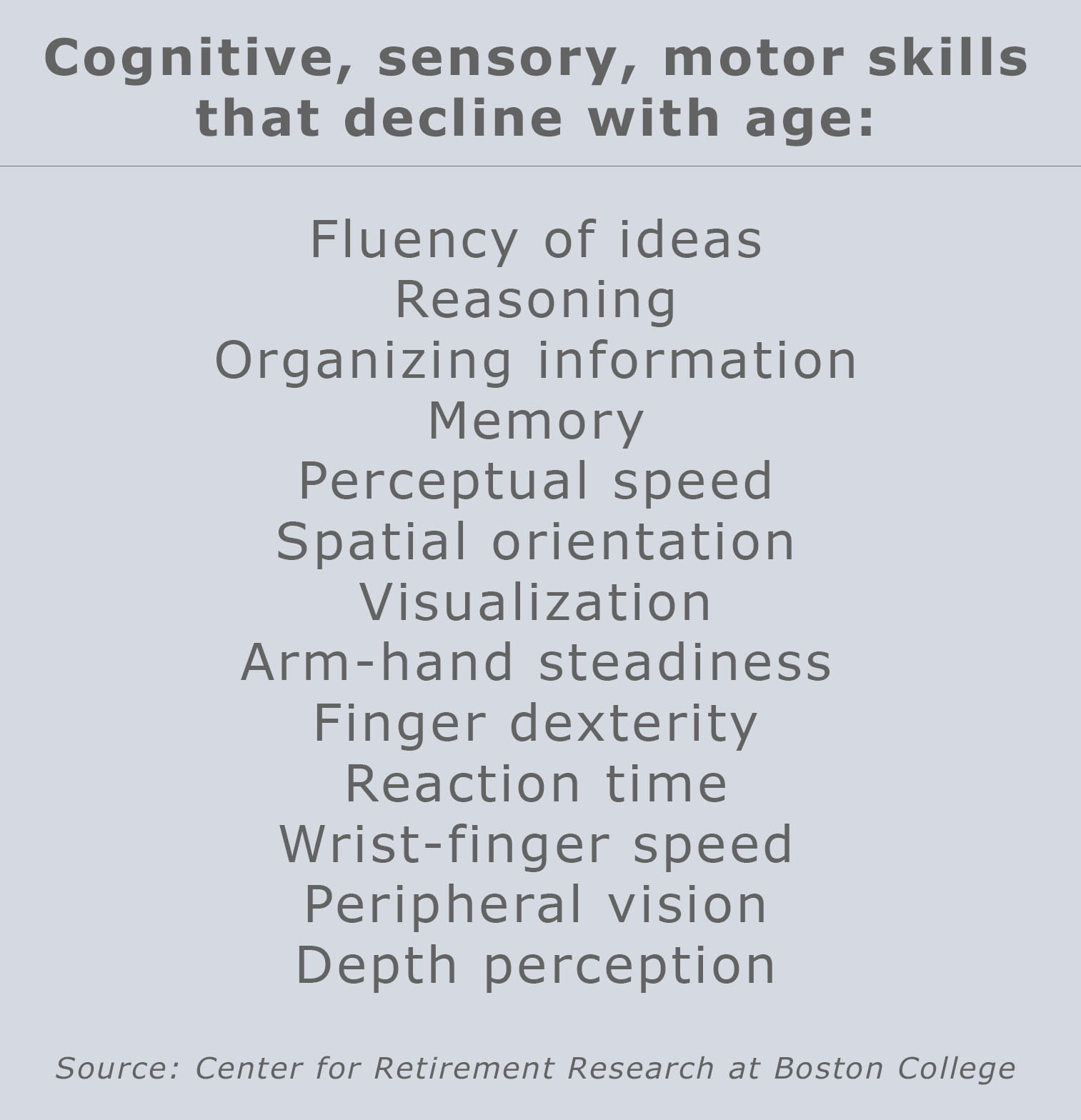 It's widely recognized that blue-collar workers retire relatively early, when their bodies start wearing out. But the assumption has been that people in less physically demanding white-collar jobs can carry on.
However, that does not hold true for all white-collar occupations, according to a newly released study by the Center for Retirement Research, which supports this blog. This finding is especially relevant amid renewed discussions about again increasing the age when workers can claim their full Social Security benefits.
This would effectively reduce everyone's benefits by about 7 percent for each year the age is raised.  Benefits are reduced either because individuals must wait longer to claim their full monthly benefit (which means receiving the benefit for a shorter period of time) or because they would receive a smaller monthly benefit if they don't wait.  The reduced monthly benefit would affect people who might be pushed into an earlier retirement due to age-related limitations on what they can do.
Factory or construction workers are classic examples: critical attributes, such as strength and flexibility, atrophy with age. But so do many cognitive and other requirements common to both white- and blue-collar jobs. Memory slips, eyesight blurs, and reaction times are no longer as sharp as they used to be.
Many white-collar occupations stand out for being dependent on skills that tend to fade. Police detectives are reliant on deductive reasoning to solve cases, making this profession among the most susceptible to cognitive decline. The study found that detectives are just as likely to experience age-related difficulties as assemblers of machinery and equipment, who require skills ranging from interpreting blueprints to finger dexterity.
Or consider electrical engineers whose problem-solving skills erode with age. This makes them about as vulnerable as aging restaurant cooks, who lose the physical strength they need for kitchen work, as well as the ability to mentally catalogue customers' orders and other information.
Other highly susceptible white-collar jobs include supervisor, administrator, pharmacist, secretary, licensed practical nurse, and professional photographer. These and other white-collar professions are reliant on various cognitive and sensory skills assessed in the study and listed in the above box.
Blue-collar workers remain the most susceptible to age-related declines. But, "The notion that all white-collar workers can work longer and all blue-collar workers cannot is too simplistic," the researchers conclude.
Comments are closed.