5 Ways Millennials Mess Up With Money
The harsh reality is that you aren't earning as much money as you think you are, and you don't have as much to spend as you think you do – so it's easy to let spending get out of control.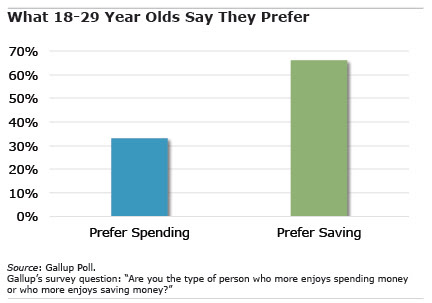 Andrea Woroch, only 34 years old herself, delivers some tough love to those who've already developed poor spending habits. A personal finance expert for the Millennial generation, Woroch said a perilous time is between the cash-strapped period right after college and the time when the steady, but modest, paychecks start flowing.
Early on, she explained, the attitude was "Okay, let me go to happy hour on this day because I can get $1 tacos and a beer. Now it's okay to spend $20 for dinner. But that adds up, and they end up spending even more."
Millennials polled by Gallup said they prefer saving to spending.  But Woroch, in an interview, provided five harsh observations about the obstacles to saving that she's observed among young adults – including her husband, when they started dating:
You eat out all the time. Rightly, socializing is a big part of life. Eating out is also part of a larger trend: in March, consumer spending on dining out surpassed grocery store sales for the first time. Woroch advises that "spending money at the grocery store will help you spend less on food and leave room in your budget to put towards your savings goals."
You act on impulse. Research shows that impulse purchases actually create a pleasant rush. Think before you buy. Woroch said creating a budget and tracking your spending can help.
You give into emotions. It's tempting to reward yourself after a long work week. But there are less expensive, "alternative way[s] to control your emotions" like exercising or venting to a friend, she said.
You spend before you save. Retirement experts urge workers to "pay yourself first," which means allowing an employer to make a payroll deduction to your retirement account – and making do with what remains of your paycheck. Not signing up for a 401(k) that provides a matching employer contribution senselessly leaves "free money" on the table.
You don't have any cash for emergencies. Barely making it from paycheck to paycheck only spells trouble, which will compound into the future. Yes, it's difficult to save for the retirement and, at the same time, pay off student loans. But saving money for emergencies is essential.
The bottom line is that lots of Millennials need to start putting away between 7 percent and 10 percent for retirement and set aside funds for emergencies, or risk serious consequences down the road. They simply don't have as much to spend as they think they do.
To stay current on our Squared Away blog, we invite you to join our free email list. You'll receive just one email each week – with links to the two new posts for that week – when you sign up here.     
Comments are closed.