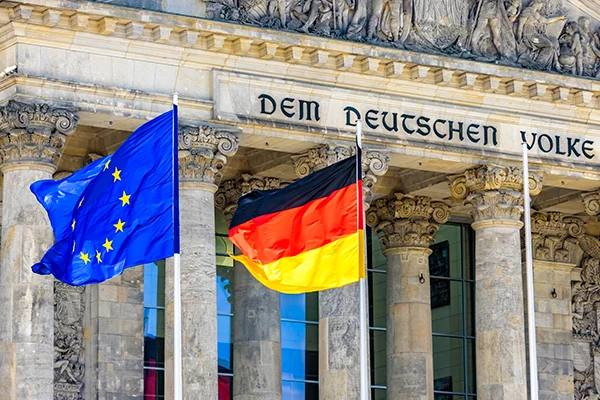 Middle-aged Working Women Adjust to Pension Reform
German legislation that increased the federal pension credits given to mothers has influenced their decisions about working in middle age, years after their children were born but long before retirement age.
This finding from a recent study adds to what is currently understood about how changes made to future pensions can affect how much workers choose to work now or when to retire. Previous research tended to gauge the impact of pension reforms on individuals who are closing in on their retirement years.
This study focuses squarely on the behavior of mothers who are mostly in their early 50s, when workers are just starting to get serious about their retirement plans.
The retirement benefits paid to German workers by the country's social security are based on pension credits that workers earn for their years of service and are scaled to how much they earn. Germans qualify after contributing to the system for a minimum of five years.
On top of the basic pension formula, however, mothers receive additional pension credits for child care to compensate for the time they may take off around each child's birth.
But a 2014 change to the pension scheme for mothers – the Mȕtterrente reform, which had been highly publicized during national elections the previous year – significantly increased their credits. The average current value of the mothers' future pension benefits rose by 4.4 percent per child.
But only women who had their first child prior to January 1992 received the additional credits. The reform was designed to correct for their unequal financial treatment resulting from a pension reform that increased pension credits for children born from 1992 onward.
Using federal administrative data from the first five years after the legislation passed, the researchers analyzed the employment and pension records of the mothers who had received the extra credits. They were compared with unaffected mothers, whose children were born on or after Jan. 1, 1992.
The reform had no material impact on whether the women who got the additional credits were still working. However, they were earning significantly less by their early 50s than the unaffected women, apparently an indication that although they were still in the labor force, they had reduced their hours of work. The biggest drops were experienced by the women benefiting from reform who had accumulated more individual or household pension credits and by women whose husbands are close to retirement age, which is usually 67 in Germany.
These mothers had, on average, a decade or more to go before they would hit retirement age. The pension reform had "aggregate labor supply effects well beyond the direct impact on individuals on the verge of retirement," the researchers concluded.
To read this study by Elisabeth Artmann, Nicola Fuchs-Schȕndeln, and Giulia Giupponi, see "Forward-looking Labor Supply Responses to Changes in Pension Wealth: Evidence from Germany."
The research reported herein was derived in whole or in part from research activities performed pursuant to a grant from the U.S. Social Security Administration (SSA) funded as part of the Retirement and Disability Research Consortium. The opinions and conclusions expressed are solely those of the authors and do not represent the opinions or policy of SSA, any agency of the federal government, or Boston College. Neither the United States Government nor any agency thereof, nor any of their employees, make any warranty, express or implied, or assumes any legal liability or responsibility for the accuracy, completeness, or usefulness of the contents of this report. Reference herein to any specific commercial product, process or service by trade name, trademark, manufacturer, or otherwise does not necessarily constitute or imply endorsement, recommendation or favoring by the United States Government or any agency thereof.