Our Stubborn State of Financial Illiteracy
The U.S. retirement system is built on people having a working knowledge of finance.  Yet financial literacy among a big chunk of Americans ranges from unimpressive to abysmal.
This revelation was again confirmed in a survey that recently debuted by financial literacy guru Annamaria Lusardi, head of the Global Financial Literacy Excellence Center at George Washington University. In a 2011 survey, Lusardi had found that too many Americans were unable to answer three very simple financial questions.
This new survey is more ambitious, though the results are no more promising. It asks 28 questions in eight areas: earning money, budgeting, saving, investing, borrowing, insuring, understanding risk, and information sources.  In the nationally representative survey, about one in four people got no more than seven answers (25%) correct.
One telling finding is that the highest scores were for knowledge about borrowing, with nearly two out of three answering these questions correctly. I suspect this knowledge has been gained from experience – experience with high-interest credit card bills and onerous student loan payments, as well as mortgages.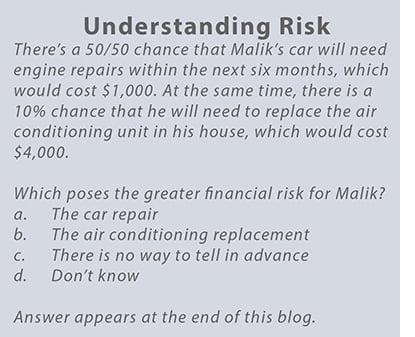 For every other financial topic surveyed, about half or less answered the questions correctly.  Questions about risk, which is at the heart of many financial decisions, fared worst – only 39 percent answered these correctly.
An important connection is made in the report regarding 18- to 44-year olds, who answered only 41 percent of the questions correctly (versus 55 percent for people over 45). Younger adults also answered "I do not know" most often.
When it comes to retirement, those who would gain more from financial knowledge are the least knowledgeable.  Saving that starts in early adulthood can go a long way toward achieving retirement security, thanks to compound investment returns over the many years remaining prior to leaving the work force. It's unfortunate that those who could benefit from compounding often don't comprehend its effect.
No surprise that financial knowledge increases as household incomes and education levels rise.
Nevertheless, "It is concerning that so many Americans appear to lack knowledge that enables sound financial decision-making," the survey concludes. To read the entire survey, click here.
It's much easier to measure financial literacy – or the lack of it – than to figure out how to fix it, though Lusardi would start with teaching financial literacy in high school.
What is also clear is that everyone bears some responsibility for the dismal state of financial literacy and to do what we can to reduce the harm that financial illiteracy creates.
Answer to risk question:  The car repair. While it's true that it is impossible to predict the future, one can put a dollar value on the financial risk that each breakdown – the car and the air conditioner – might occur.  Here's how to do that: a $1,000 car repair with a 50 percent chance of occurring is a $500 risk ($1,000 x .50). A $4,000 air conditioner replacement with a 10 percent chance of occurring is a $400 risk ($4,000 x .10).
Squared Away writer Kim Blanton invites you to follow us on Twitter @SquaredAwayBC. To stay current on our blog, please join our free email list. You'll receive just one email each week – with links to the two new posts for that week – when you sign up here. 
Comments are closed.