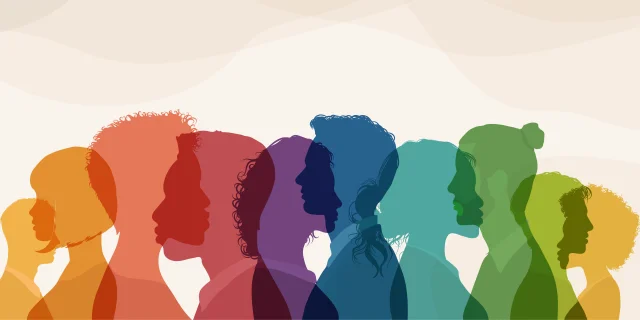 Race is a Factor in Where We Get Social Security Info
The first place most people say they would go for information about Social Security's various benefits is family and friends.
That's true whether they are Black, White, Asian, or Hispanic. But after family and friends, there are few similarities in whom each group consults. And their preferences, revealed in a new survey, reflect differences in their socioeconomic circumstances and social networks.
White workers, who are wealthier overall than Blacks and Hispanics, stand out for being more likely to say they would ask financial advisers and accountants about Social Security. Black and Hispanic workers more often would rely on social services agencies, and Blacks also ask for help at church.
It's crucial that people get accurate information about the Social Security benefits they have earned and how to get the most out of the programs. But their top choices for information may not be well informed. The problem with leaning too much on informal networks of family and friends is that "gaps in knowledge can persist" within each racial group and their social networks, the researchers said.
The Social Security Administration, the gold standard for information, was the most-cited response after family and friends. Two-thirds to three-fourths of Black, White, Hispanic and Asian workers picked the agency out of a list of places they would get their information.
But individual circumstances also affected whether they consulted the agency. After the death of a spouse, the survivor would be less likely to contact Social Security if the couple has minor children. Older workers are familiar with Social Security's retirement benefits for surviving spouses. But they might not think to contact the agency about the more obscure survivor's benefit for children under 18.
The researchers recruited more than 3,000 people for their online survey. Participants were asked to select from a list of the places where they would turn for information about Social Security.
The third most popular source of information was the internet, including social media. Race entered the picture here too. In a multiple-choice question, three out of four Asians said they would go to the internet – the share was closer to half for everyone else.
All workers need complete and accurate information about Social Security's retirement and disability benefits to make important life decisions. But underserved racial and ethnic minorities rely on these benefits more.
Given the differences in where they get their information, the researchers concluded, a variety of tactics – information distributed in, say, printed materials and online – and multiple communications channels, including the church and local social service agencies, could help with efforts to reach underserved communities.
To read this study by Katherine Carman, Samer Atshan, and Jhacova Williams, see "Disparities in Social Security Knowledge and the Role of Social Capital."
The research reported herein was derived in whole or in part from research activities performed pursuant to a grant from the U.S. Social Security Administration (SSA) funded as part of the Retirement and Disability Research Consortium. The opinions and conclusions expressed are solely those of the authors and do not represent the opinions or policy of SSA, any agency of the federal government, or Boston College. Neither the United States Government nor any agency thereof, nor any of their employees, make any warranty, express or implied, or assumes any legal liability or responsibility for the accuracy, completeness, or usefulness of the contents of this report. Reference herein to any specific commercial product, process or service by trade name, trademark, manufacturer, or otherwise does not necessarily constitute or imply endorsement, recommendation or favoring by the United States Government or any agency thereof.