Tapping 401(k)s, IRAs Early Is Costly
It's fairly easy to withdraw money prematurely from 401(k)s and IRAs – a practice that depletes roughly one-fourth of account balances over a worker's lifetime.
U.S. workers on average withdraw 1.5 percent annually from their retirement account assets.  When they do, they forgo years of investment gains they could have earned had they left their money alone.
Early withdrawals can pose a problem for many Americans at a time financial security in retirement increasingly hinges on these defined contribution plans.  The potential for leakages has also grown in recent years, in part due to the shift away from traditional employer pensions to 401(k)s that place control in employees' hands.  Further, the assets being held in IRAs, which have more liberal withdrawal policies, are increasing as workers changing jobs and retiring baby boomers roll their employer-sponsored 401(k)s into IRAs.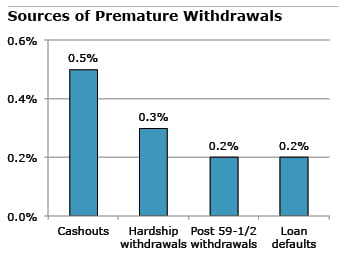 This chart shows the sources and relative amounts – as a percent of total plan assets – of different types of these premature and permanent withdrawals from defined contribution plans.  These estimates, by the Center for Retirement Research, which supports this blog, are based on data from the mutual fund company, Vanguard. They total slightly less than 1.5 percent, because plan participants in Vanguard's client base earn more than the general population and may have somewhat lower withdrawal rates.
To help preserve workers' savings, the study proposed ways these premature withdrawals could be restricted:
Cash-outs from a former employer's plan, an option for workers changing jobs, are the largest source of leakages.  These lump sum cash distributions could be prohibited, leaving three options that preserve workers' savings: keep the money in the former employer's 401(k), transfer the 401(k) into the new employer's 401(k), or, as a last resort, transfer the 401(k) to an IRA.
In-service withdrawals occur in two ways under current rules:

401(k) hardship withdrawals are permitted for predictable expenses such as college and home purchases, as well as unexpected expenses for disability, medical care, or job loss.  The criteria could be tightened to cover only severe, unexpected hardships.
Penalty-free 401(k) and IRA withdrawals, now permitted for workers over age 59½, signal that withdrawals are acceptable years before they reach an appropriate retirement age.  The age for withdrawing money without paying the 10 percent tax penalty could be raised to 62, which is Social Security's earliest eligibility age.

Loans are a widely available option for 401(k) participants.  Leakage occurs when these loans go unpaid, and employers treat the remaining 401(k) balance as a lump-sum distribution subject to taxes. Since employees usually repay 401(k) loans, and since they have been shown to encourage saving in the first place, the study found loans to be a "low-leakage way to allow participants to access funds."
Reforms to stop a serious and growing threat to retirement savings could help protect workers from themselves and significantly improve their retirement income security.
Comments are closed.