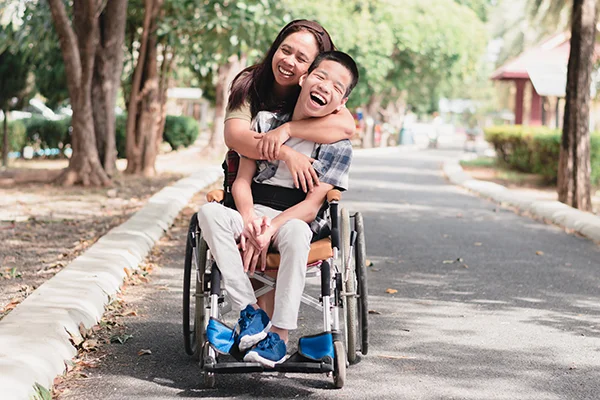 The Mothers of Children with Disabilities: Can They Retire?
Juggling a job and being a mother is hard work. It's much tougher if your child has a disability. And when these mothers look ahead to retiring, the challenges are just as complex as their current situations.
One woman whose daughter has a disability predicted in a recent interview with a researcher that she'll work until she's at least 72. "I need to be earning up until that point in order to make sure that I have more set aside for my daughter. And I don't consider my needs primary. I consider hers to be primary," she said.
Another working mother worried, "Is my son going to be living with us? Is he going to be able to go off on his own? There are just a lot of unknowns about retirement now."
The mothers of children with disabilities even have unorthodox definitions of what it means to retire. Although "technically retired," one said, "I work all the time. I mean, literally, I am always working."
These women were among 12 Wisconsin mothers over age 45 who agreed to lengthy interviews in which they described how they juggled decisions about caregiving, work and planning for retirement.
The researchers paired the interviews with an analysis of data on some 5,000 mothers nationwide to see which patterns detected in the interviews held up statistically. They found that saving for retirement is a major challenge.
A majority of the mothers of children with disabilities have no savings, and mothers with significant caregiving responsibilities – presumably this includes single mothers – usually have not saved money for retirement through an employer savings plan. And if mothers are saving in an employer 401(k), they have less than other working mothers.
The challenges they face in preparing for retirement are probably rooted in the difficulty of holding down a job. A smaller share of mothers who have children with disabilities are working, compared with other mothers. Labor force participation is particularly low among the mothers with intense caregiving duties requiring 10 or more hours per week of child care.
"I have not been able to maintain full-time employment because I cannot maintain full-time [child]care," one mother explained in an interview.
It's not surprising that job flexibility is a major priority. The children must be transported to an unusually large number of doctor's appointments and medical tests and may need help at home with everything from dressing to eating. "It was worth taking a pay cut," one mother explained, so "I could go in on a Saturday instead of being a nine-to-fiver."
The data analysis produced little indication that caregiving duties affected their plans for retirement. But in interviews, the mothers of children with disabilities told a different story. Some said they were forced to retire to take care of a child, perhaps because they were not able to afford professional care. Others said they would keep working as long as possible for financial reasons, which may include paying for care.
This is the first known study to look at the challenges these mothers face. Given how varied their situations are, the researchers said more work needs to be done to understand them.
While the quantitative analyses "indicate few impacts of child's disability on mother's retirement," they said, "our interviews argue strongly otherwise."
To read this study by Molly Costanzo, Lisa Klein Vogel, Victoria Knoke, and Hanna Han, see "All in the Family: Parents of Children with Disabilities and Retirement."
The research reported herein was derived in whole or in part from research activities performed pursuant to a grant from the U.S. Social Security Administration (SSA) funded as part of the Retirement and Disability Research Consortium. The opinions and conclusions expressed are solely those of the authors and do not represent the opinions or policy of SSA, any agency of the federal government, or Boston College. Neither the United States Government nor any agency thereof, nor any of their employees, make any warranty, express or implied, or assumes any legal liability or responsibility for the accuracy, completeness, or usefulness of the contents of this report. Reference herein to any specific commercial product, process or service by trade name, trademark, manufacturer, or otherwise does not necessarily constitute or imply endorsement, recommendation or favoring by the United States Government or any agency thereof.