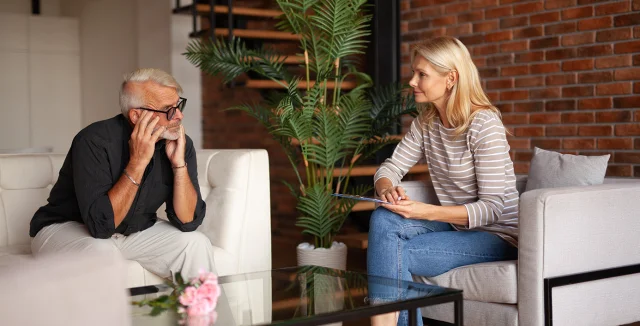 Barriers to Advantage Plans' Mental Health Coverage
Retirees tend to use mental health services less than the general population. On the bright side, people get happier as they age and may not need a therapist. However, treatment is also expensive, and retirees may be unaware that Medicare covers psychiatrists, psychologists, and in-patient and out-patient treatment.
Retirees with Medicare Advantage insurance policies face another obstacle: ghost networks of mental health professionals that the insurer claims to cover.
A new report by the Senate Finance Committee, based on a sampling of 12 Advantage plans in six states, determined that only about 20 percent of the people with these policies who seek services would be able to make an appointment because a majority of the plans' lists of in-network therapists are replete with problems. This report comes as the nation is already in the midst of a mental health crisis, post-COVID, that has made it extremely difficult to find care.
"It is particularly troubling," the Finance Committee concluded, to consider how ghost networks "may acutely affect an individual struggling with a mental health condition."
Advantage plans pay for the same psychiatric services that Medicare covers directly, including therapists, group therapy, psychological evaluations, and some hospitalizations for mental illness and substance abuse.
And to be fair, it's not always easy for retirees with traditional Medicare to find mental health treatment either. Only 60 percent of psychiatrists are accepting new Medicare patients, compared with 81 percent of general practitioners and internal medicine physicians, according to KFF, a healthcare research organization. But access to treatment in Advantage policies is a growing issue because their popularity has soared. Retirees are flocking to these insurance policies for their low or no premiums and extra services like vision care that traditional Medicare doesn't cover.
Senate staffers identified problems with Advantage insurers' networks of mental health providers, which are used to control their costs, by calling 120 in-network therapists for various insurers. They found that the therapists frequently were not accepting new clients or reported that they were not actually in the network. Another common issue was disconnected or incorrect phone numbers, including for a high school health center. One mental health practice told a staffer they had tried several times to get the insurer to remove its name from its list.
More rigorous research has identified other problems for retirees. A study in Health Affairs found that it is common for retirees who are having trouble finding in-network therapists to go out of network for treatment, which is more expensive. And KFF said 60 percent of the retirees with Advantage plans in 2022 had policies that did not cover out-of-network mental health and substance abuse services.
When the policies do provide in-network coverage, KFF said the vast majority require prior authorization of treatment by the insurer, creating an obstacle to care. Prior authorizations are very unusual for people who are enrolled in traditional Medicare.
These issues are not insurmountable but they can dissuade people with mental health problems from getting treatment.
For this reason, "it's important to review what your plan covers," said Meredith Freed, a senior policy analyst for KFF.
"And if you're somebody who's particularly in need of certain mental health or substance use disorder benefits, check in advance which providers are in-network and understand what kind of coverage you have," she said.
Squared Away writer Kim Blanton invites you to follow us on Twitter @SquaredAwayBC. To stay current on our blog, please join our free email list. You'll receive just one email each week – with links to the two new posts for that week – when you sign up here. This blog is supported by the Center for Retirement Research at Boston College.
Comments are closed.