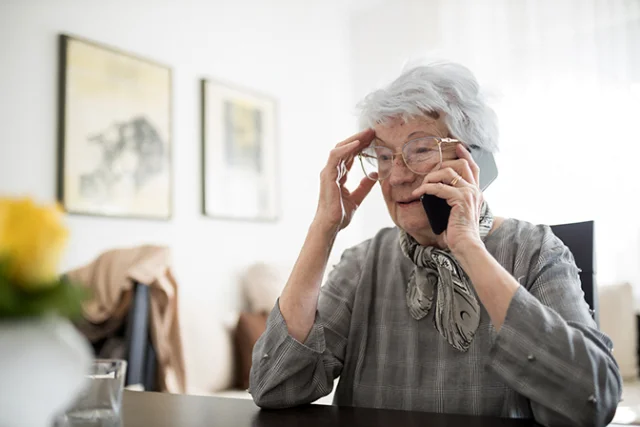 Criticisms of Medicare Advantage Marketing Continue
A recent blog about advertisements for Medicare Advantage policies brought a torrent of criticisms from our readers that the ads flooding the airwaves and mailboxes are too vague and even misleading.
"What we do to seniors – most of whom have contributed for years to fund Medicare – should be an embarrassment to us, as a nation," one reader wrote about the tactics used to sell Advantage plans. A common complaint from another reader: "How do I get them to quit calling sometimes ten times a day?"
The sales pitches are also getting the attention of the federal government and research and advocacy organizations, because Advantage plans have grown to half of the market for Medicare insurance policies. Two newly released reports by researchers found support for older Americans' complaints that the high-pressure sales tactics are both misleading and fail to provide information about two crucial aspects of their coverage: out-of-pocket costs and benefits.
(The average out-of-pocket deductible for an Advantage plan is $4,835 in 2023. People who need help finding the right plan can contact their state's SHIP program, which has volunteers to sort through the many plan options available.)
Last November, the Senate Finance Committee reported a doubling between 2020 and 2021 in consumer complaints about the Medicare Advantage telemarketers and ads in 14 states that tracked them. "Beneficiaries are being inundated with aggressive marketing tactics as well as false and misleading information," the committee concluded.
To be fair, some retirees prefer Advantage plans over an expensive alternative: Medigap policies. While some studies show that Medigap may have lower out-of-pocket costs for seriously ill retirees, many retirees can't afford the monthly premiums. And unlike Medigap, Advantage plans usually include prescription drug coverage and often do not charge a premium. Retirees are still responsible for paying the government's Medicare Part B premium.
But in a Commonwealth Fund survey, 2,000 consumers identified an array of issues with Advantage plan marketers: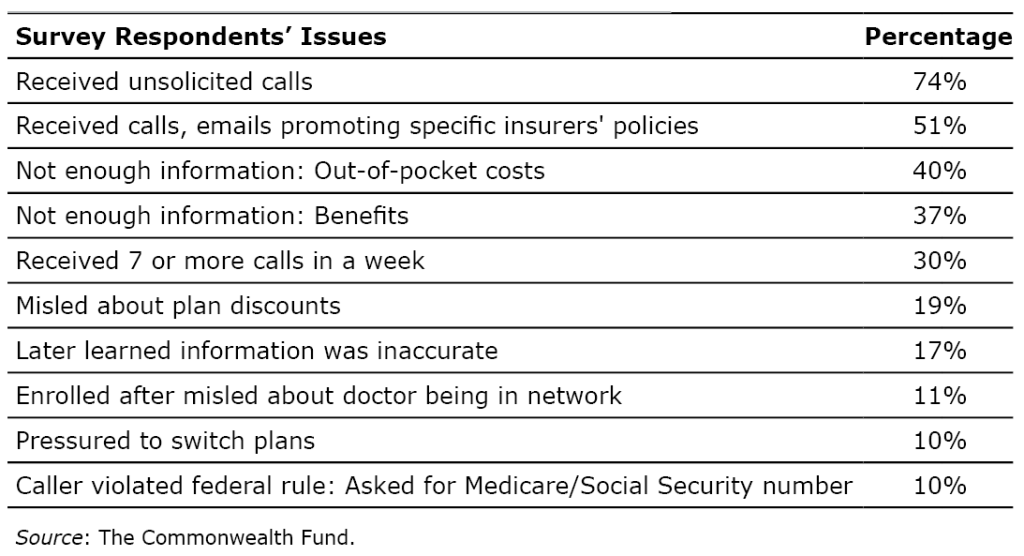 In a second report by KFF, retirees in focus groups said they didn't trust claims that some benefits are "free." And KFF researchers, who watched 1,200 television ads, found evidence of misleading information. One in four ads gave the impression the plans are somehow affiliated with the federal Medicare system by using images of an official Medicare card or providing a toll-free "Medicare hotline."
To eliminate confusion, the Biden administration recently approved a couple of regulations. One banned Advantage plans and insurance brokers from using Medicare's logo or any images that resemble it. Another regulation bans ads that aren't about specific policies in an attempt to eliminate "overly general" ads that "confuse and mislead" seniors.
In the Commonwealth survey, only a minority of retirees criticized any one issue in particular. But their myriad complaints about Advantage plan marketing, taken together, suggest there is enough to warrant doing more to inform and protect older Americans.
Squared Away writer Kim Blanton invites you to follow us on Twitter @SquaredAwayBC. To stay current on our blog, please join our free email list. You'll receive just one email each week – with links to the two new posts for that week – when you sign up here. This blog is supported by the Center for Retirement Research at Boston College.