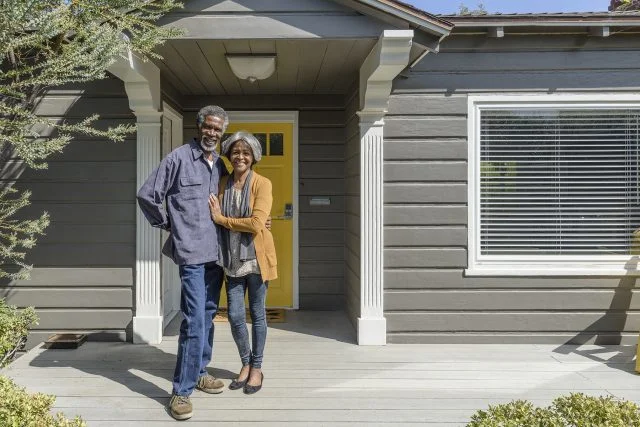 Lifelong Disadvantages Limit Equity for Older Black Homeowners
The historic discrimination that has limited the ability of older Black Americans to accumulate wealth has been present in every aspect of the housing market. They have paid a steep price.
By the time they reached their mid-50s, they had $90,000 in home equity – or about $57,000 less than White homeowners – according to a new study of people who purchased houses between 1980 and 2000.
The barriers to building up housing wealth started early for the Black homeowners. As young workers, they tended to earn less, and their parents usually had fewer resources to contribute to a down payment, a crucial factor in what they were able to buy. They also faced mortgage discrimination, and when they did get their first loans, they were pushed into less expensive neighborhoods with fewer amenities such as green spaces or shopping districts that push up house prices over time.
But which barriers have driven that $57,000 gap in housing wealth between older Black and White owners?
Siyan Liu and Laura Quinby at the Center for Retirement Research find that the compounding effects of the initial racial disparities and years of lower house price appreciation in their neighborhoods have both played large roles in limiting how much home equity older Black workers have accumulated.
They compared home equity levels in 2019 for Black and White 55-year-olds with similar incomes and education levels. In theory, they should have had the same ability to build up home equity over their lives.
But the Black owners started to fall behind years ago when they bought their first house. The researchers estimate they initially paid about $126,000 for the starter house and, after signing the mortgage, had $29,000 in equity. Older White homebuyers paid $149,000 and initially had $39,000 in equity.
This early advantage compounds over time. White owners started with a more expensive house and then added more equity because the houses in their neighborhoods appreciated more. By age 55, the prices had increased by 77 percent, dwarfing the 40 percent appreciation for older Black homeowners.
The research highlights another advantage of being White. One reason they wound up with more equity is because they were more likely to take on additional mortgage debt at some point in order to trade up to a larger house – and larger houses in more expensive neighborhoods appreciate more.
The goal of this study was to determine where Black homeowners fell behind. The answer: it's a lifelong process.
The disparities that faced the Black owners as first-time homebuyers explain just over half the $57,000 wealth gap at age 55 – 53 percent, the researchers find. But living in a housing market with less upside is nearly as important, accounting for 47 percent of the gap.
"The conclusion is clear – each factor contributed meaningfully to the age-55 gap," they said. Addressing these disadvantages through housing policy will not be easy.
To read this brief by Siyan Liu and Laura Quinby, see "What Drives the Racial Housing Wealth Gap for Older Homeowners?"
The research reported herein was derived in whole or in part from research activities performed pursuant to a grant from the U.S. Social Security Administration (SSA) funded as part of the Retirement and Disability Research Consortium. The opinions and conclusions expressed are solely those of the authors and do not represent the opinions or policy of SSA, any agency of the federal government, or Boston College. Neither the United States Government nor any agency thereof, nor any of their employees, make any warranty, express or implied, or assumes any legal liability or responsibility for the accuracy, completeness, or usefulness of the contents of this report. Reference herein to any specific commercial product, process or service by trade name, trademark, manufacturer, or otherwise does not necessarily constitute or imply endorsement, recommendation or favoring by the United States Government or any agency thereof.
Comments are closed.