Medicaid to Help Fill Gap in Seniors' Care
Two previous studies on long-term care reported in this blog estimated how many of today's 65-year-olds today will require care for minimal, moderate, or severe levels of need as they age and how many have the financial resources to cover each level of care that might be required.
In the third and final study in this series, the Center for Retirement Research matched the specific levels of need each retiree is projected to have in the future with their resources to determine how many of them will fall short.
Among all retirees, 22 percent are expected to have minimal needs for care and 9 percent will lack the family and financial resources to cover it – in other words, just under half of the people in this group will fall short. The shortfall among people with moderate needs will be larger: the comparable figures are 38 percent of all retirees will be at this level and 21 percent of retirees will fall short. Finally, 24 percent of retirees are expected to have severe care needs – for at least five years – and 16 percent will fall short.
But there is another critical source of support: Medicaid. The researchers find that the joint federal-state program dramatically reduces the share of retirees with insufficient resources to cover their care.
Not everyone qualifies for Medicaid, however. Older Americans can get the funding if they meet two conditions. First, they must have a serious health issue, such as dementia or a physical or medical condition that limits their activity. Second, the program covers nursing homes only for retirees with little in the way of financial resources, either because they had lower-paying jobs and didn't save or because they exhausted most of the retirement savings they had scraped together.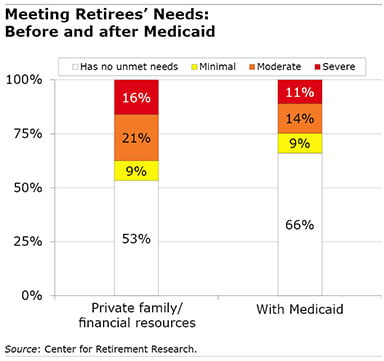 When Medicaid is added to the picture, the program makes a significant dent. Among the 65-year-olds who will need moderate care, the share of all retirees who lack the resources to cover it drops from 21 percent to 14 percent when Medicaid funding is included. Medicaid also reduces the burden on boomers who will need high levels of care: the share lacking adequate resources drops from 16 percent to 11 percent.
The researchers didn't include Medicaid in the resources available to the 9 percent of retirees who will need only minimal help with chores like cleaning or grocery shopping. The program typically doesn't pay for these services, though there has been movement in a handful of states and at the federal level to loosen the restrictions around housekeeping.
This study sketches a rough picture of what's in store for baby boomers. In the real world, people patch together their care in myriad ways, and their resources fall short to varying degrees.
But for retirees who will need substantial amounts of care and don't have a way to provide it, the personal consequences can be devastating. That's where Medicaid can help.
To read this brief, authored by Anek Belbase, Anqi Chen, Patrick Hubbard, and Alicia Munnell, see "Who Will Have Unmet Long-term Care Needs and How Does Medicaid Help?"
Comments are closed.