Medicaid to Help Fill Gap in Seniors' Care
Two previous studies on long-term care reported in this blog estimated how many of today's 65-year-olds today will require care for minimal, moderate, or severe levels of need as they age and how many have the financial resources to cover each level of care that might be required.
In the third and final study in this series, the Center for Retirement Research matched the specific levels of need each retiree is projected to have in the future with their resources to determine how many of them will fall short.
Among all retirees, 22 percent are expected to have minimal needs for care and 9 percent will lack the family and financial resources to cover it – in other words, just under half of the people in this group will fall short. The shortfall among people with moderate needs will be larger: the comparable figures are 38 percent of all retirees will be at this level and 21 percent of retirees will fall short. Finally, 24 percent of retirees are expected to have severe care needs – for at least five years – and 16 percent will fall short.
But there is another critical source of support: Medicaid. The researchers find that the joint federal-state program dramatically reduces the share of retirees with insufficient resources to cover their care.
Not everyone qualifies for Medicaid, however. Older Americans can get the funding if they meet two conditions. First, they must have a serious health issue, such as dementia or a physical or medical condition that limits their activity. Second, the program covers nursing homes only for retirees with little in the way of financial resources, either because they had lower-paying jobs and didn't save or because they exhausted most of the retirement savings they had scraped together.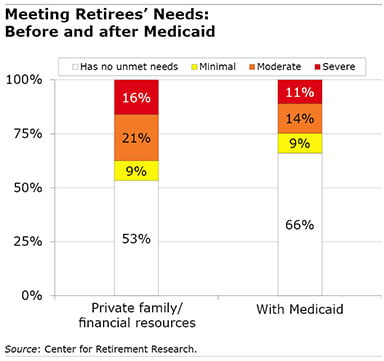 When Medicaid is added to the picture, the program makes a significant dent. Among the 65-year-olds who will need moderate care, the share of all retirees who lack the resources to cover it drops from 21 percent to 14 percent when Medicaid funding is included. Medicaid also reduces the burden on boomers who will need high levels of care: the share lacking adequate resources drops from 16 percent to 11 percent.
The researchers didn't include Medicaid in the resources available to the 9 percent of retirees who will need only minimal help with chores like cleaning or grocery shopping. The program typically doesn't pay for these services, though there has been movement in a handful of states and at the federal level to loosen the restrictions around housekeeping.
This study sketches a rough picture of what's in store for baby boomers. In the real world, people patch together their care in myriad ways, and their resources fall short to varying degrees.
But for retirees who will need substantial amounts of care and don't have a way to provide it, the personal consequences can be devastating. That's where Medicaid can help.
To read this brief, authored by Anek Belbase, Anqi Chen, Patrick Hubbard, and Alicia Munnell, see "Who Will Have Unmet Long-term Care Needs and How Does Medicaid Help?"
Comments are closed.
Lisa Krahn
I would hope any discussion of Medicaid would also discuss the extremely negative effects of Estate Recovery, too. Federal law compels states to in effect make Medicaid less of a benefit program and more of a LOAN with one's estate as collateral. https://www.macpac.gov/publication/medicaid-estate-recovery-improving-policy-and-promoting-equity/
Dave G
To what extent are more affluent seniors still able to engage in "Medicaid planning" to qualify for long-term care assistance? This is where you purposely divest yourself of assets to meet Medicaid guidelines.I just spoke to someone who explained she and her husband did a "strategic divorce" to protect significant assets she brought into the marriage. She gave up rights to his retirement benefits, retiree medical or alimony in order to place her assets out of reach of Medicaid. This was done about 10 years ago.I've always viewed the "spend down" for Medicaid qualification as not a particularly dignified process (nor does it provide the best levels of care) and best avoided if possible. Also, that rules have been tightened with "look back" periods on asset transfers to discourage this practice. But it appears divorce may still offer a way around this.
Laura E

So, she knew she (versus her ex-husband) was headed for a nursing home?

Brian

We purchased a shared Partnership LTCi plan after reading that these plans protect some (or in some cases, all) of a program participant's assets (resources) from Medicaid's asset limit. Also, the "protected" assets are safe from Medicaid's asset recovery, sheltering assets as inheritance for the family after the passing of a Medicaid recipient.Basically, the amount of protected assets (spend down amount) that is protected from Medicaid's asset limit is equal to the amount that is paid out by the long term care partnership policy (the dollar value of the policy).No need to get a divorce…